United States of America
12"/45 (30.5 cm) Mark 5 and Mark 6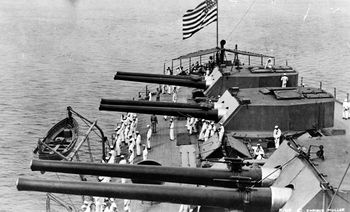 This weapon was used on the last pre-dreadnoughts and the first dreadnoughts of the US Navy. The arrangement of the gun turrets on the first US dreadnought, USS South Carolina (B-26), with one turret firing over the other (superfiring) at each end of a compact superstructure, was far more efficient than that of any of the "pre-dreadnought" designs, and, for that matter, of HMS Dreadnought herself. In less than a decade, the use of superfiring turrets became the standard for all nations' capital ships.
During target practice in 1916, USS Michigan (B-27) cracked the chase hoops on two of her guns. An investigation of similar guns on USS South Carolina (B-26) showed that copper deposits from the projectile driving bands had narrowed down the bores, which slowed the projectiles and thus greatly increased the barrel pressures (problem known as "copper choke"). Lapping heads for guns 12" (30.5 cm) and larger were issued to all ships for removing these deposits. Later, these were replaced by wire and pisaba brushes.
Under the provisions of the Washington Naval Limitation Treaty of 1922, most of the ships armed with these guns were scrapped during the mid-1920s. Many of their guns were then transferred to the US Army where they were employed as coastal artillery. At the end of World War II, some of these guns were sold to Brazil for use in their coastal batteries.
In 1908 AP projectiles were fitted with a longer ballistic cap of 7crh which improved their penetration ability at longer ranges.
Constructionally, the Mark 5 was essentially a lengthened 12"/40 (30.5 cm) Mark 4. The Mark 6 was very similar except that it had seven hoops vs. six in the Mark 5. It is not clear if any Mark 6 guns were actually used in service.
A note on sources: Appendix D of "U.S. Battleships: An Illustrated Design History" by Norman Friedman states that the USS Connecticut (B-18) and USS Mississippi (B-23) battleship classes carried 12"/40 (30.5 cm) guns. Other sources disagree and state that these ships carried 12"/45 (30.5 cm) guns. Through an analysis of information in "United States Naval Guns: Their Marks and Modifications," several photographs and, ironically, aided by notes in another book by Dr. Friedman, "US Naval Weapons," I have concluded that these ships actually carried the 12"/45 (30.5 cm) gun and that Dr. Friedman in "U.S. Battleships" is in error.
The data that follows is specifically for the 12"/45 (30.5 cm) Mark 5 Mod 9.
Designation
12"/45 (30.5 cm) Mark 5 and Mark 6
Ship Class Used On
Connecticut (B-18), Mississippi (B-23), South Carolina (B-26), Delaware (B-28) and Florida (B-30) Classes
Date Of Design
about 1903
Date In Service
1906
Gun Weight
53 tons (54 mt)
Gun Length oa
N/A
Bore Length
540 in (13.716 m)
Rifling Length
N/A
Grooves 1
(72) 0.075 in deep x 0.2736 in (1.91 mm x 6.95 mm)
Lands
0.25 in (6.35 mm)
Twist
Most Mark 5 mods: Increasing RH 0 to 1 in 25
Mark 5 Mod 10: Uniform RH 1 in 32
Mark 6: Increasing RH 0 to 1 in 25
Chamber Volume
N/A
Rate Of Fire
2 - 3 rounds per minute
1 Early mods had "hook" rifling, where the grooves were not uniformly shaped. The values given above for grooves and lands are for the later "rib" rifling.
Type
Bag
Projectile Types and Weights
AP - 870 lbs. (394.6 kg)
Common - 870 lbs. (394.6 kg)
Bursting Charge
AP - 24.0 to 24.7 lbs. (10.9 to 11.2 kg) Explosive D
Common 1 - N/A
Projectile Length
N/A
Propellant Charge
310 lbs. (140.6 kg) SPD
Muzzle Velocity
2,700 fps (823 mps)
Working Pressure
17 tons/in2 (2,681 kg/cm2)
Approximate Barrel Life
175 rounds
Ammunition stowage per gun
Connecticut class: 60 rounds
Mississippi class: 71 rounds
Others: 100 rounds
1 Common was obsolete by 1915 and no longer in production.
| Range | Side Armor | Deck Armor |
| --- | --- | --- |
| 6,000 yards (5,490 m) | 16.6" (422 mm) | - |
| 9,000 yards (8,230 m) | 12.2" (310 mm) | - |
| 12,000 yards (10,920 m) | 9.9" (251 mm) | - |
This data is for face-hardened Harvey plates from "Ordnance Data Sheets" of 1905 and is for the older shell design.
| Range | Side Armor | Deck Armor |
| --- | --- | --- |
| 6,000 yards (5,490 m) | 15.6" (396 mm) | - |
| 9,000 yards (8,230 m) | 13.1" (333 mm) | - |
| 12,000 yards (10,920 m) | 10.8" (274 mm) | - |
This data is from "Elements of US Naval Guns" of 1918 and is for the 7crh projectile. Data is corrected for angle of fall and may also refer to harder armor than that used for the 1905 data.
Designation
Two-gun Mounts:


Connecticut (2) Mark 6
Mississippi (2), South Carolina (4) and Delaware (5): Mark 7
Florida (5): Mark 8

Weight
Mark 6: 427 tons (434 mt)
Mark 7:


Mississippi: 414 tons (421 mt)
South Carolina and Delaware: 437 tons (444 mt)

Mark 8: 443 to 450 tons (450 to 457 mt)

Elevation
-5 / +15 degrees
Train
N/A
Rate of Train
N/A
Gun Recoil
N/A
Loading Angle
Mark 6: 0 degrees
Mark 7 and Mark 8: Any angle
As in all US pre-dreadnought designs, these turrets had endless chain hoists running on unenclosed rails direct from the lower chambers to the loading position. After an accident on USS Missouri (B-11) in April 1904 that saw a flare-back from a gun breech go straight to the handling room and which killed five officers and twenty nine men, automatic shutters were installed to separate the ends of the hoists. In April 1906, exposed switch gear on USS Kentucky (B-5) caused a powder burn that killed 10 officers and men. As a result, all electrical equipment that might cause a spark hazard was removed from all USN mountings between 1907 and 1908. Bulkheads were installed in the turrets between guns and breech gas ejectors were fitted to prevent flarebacks in the future. These changes became standard on all subsequent designs.
The Mark 7 introduced all-electric power to USN turrets, although electric motors had been widely used in previous designs.
The Mark 8 was similar to the Mark 7 and was the last US large-caliber turret design to have a mark number.
The thickness of the armor protection was the main difference in turret weights between the different mark numbers.
USS South Carolina (B-26) was the first US battleship to have two-stage projectile and powder hoists. Cars now carried both shell and powder from lower to upper handling room, where they were rammed by hand through flap-covered openings into upper hoist cars, which in turn carried them to the guns. Training was by two 25 hp motors and each gun had a 15 hp motor for elevation. A 10 hp motor drove a chain rammer carried on an extension of the cradle. All electric motors were duplicated by manual hand drives as a backup. In the upper handling room, ammunition was transferred between hoists by a rammer powered by a 10 hp electric motor.
The hoists for the South Carolina class were developed by the Washington Navy Yard and proved to be satisfactory. However, the ones for the Delaware class (B-28) were designed by Bethlehem Steel and proved so troublesome that they were removed. Improvised fittings in their place consisted of rope whips.
These turrets used the "grass-hopper" counter recoil system whereby a spring box, located under the gun pit, was connected via two heavy, pivoted arms to the gun yoke. See 10"/40 (25.4 cm) datapage for a sketch.
USS South Carolina (B-26) was the first US ship to use the "hyposcope," a new type of gunsight which used a series of mirrors to remote the point of aim. This device was rigidly connected to the gun trunnions and set into the side of the turret. Previous gunsight designs were located on the turret roof in hoods and were connected by a complicated linkage to the guns. This resulted in "lost motion" as the slack in the linkage connections meant that the gunsights could not exactly follow the gun elevations. At short ranges, this lost motion was not significant, but as the range increased, the accuracy became worse. With the hyposcope, a range transmitted from any gun to the other guns on the ship meant that they could all now be pointed at the correct elevation, hence the patterns became tighter. Each gun in the turrets elevated separately, but there was a single sightsetter in each turret who was responsible for setting the correct range for both hydroscopes. A third sight was provided for the gun mount trainer and this projected up through the turret roof. It has been suggested that these characteristic turret-side sights on US warships were adopted in order to allow superfiring guns to shoot directly over the lower turrets, but this does not seem to be the case. The lead designer, Chief Constructionist Washington Capps "appears neither to have feared trouble from the blast nor to have considered end-on fire important" - Norman Friedman in "U.S. Battleships." Experiments to verify the new superfiring battleship design were conducted using the monitor USS Florida (M-9) modified with one of her 12" (30.5 cm) guns re-located in the superstructure so that it fired over her turret. The turret itself was modified to represent those planned for USS South Carolina with the exception that the gunsights were mounted further aft so as to be closer to the muzzle of the superfiring gun. Tests conducted on 6 - 15 March 1907 with full charges and with the sights directly below the superfiring gun were completely successful with the official report stating that "the shock felt was trifling, and the officer at the sight felt no jar, nor was his vision of the horizon interrupted otherwise than by the smoke of the discharge." The only design change made to the turret designs on subsequent ships as a result of these tests was a slight thickening of the turret roofs.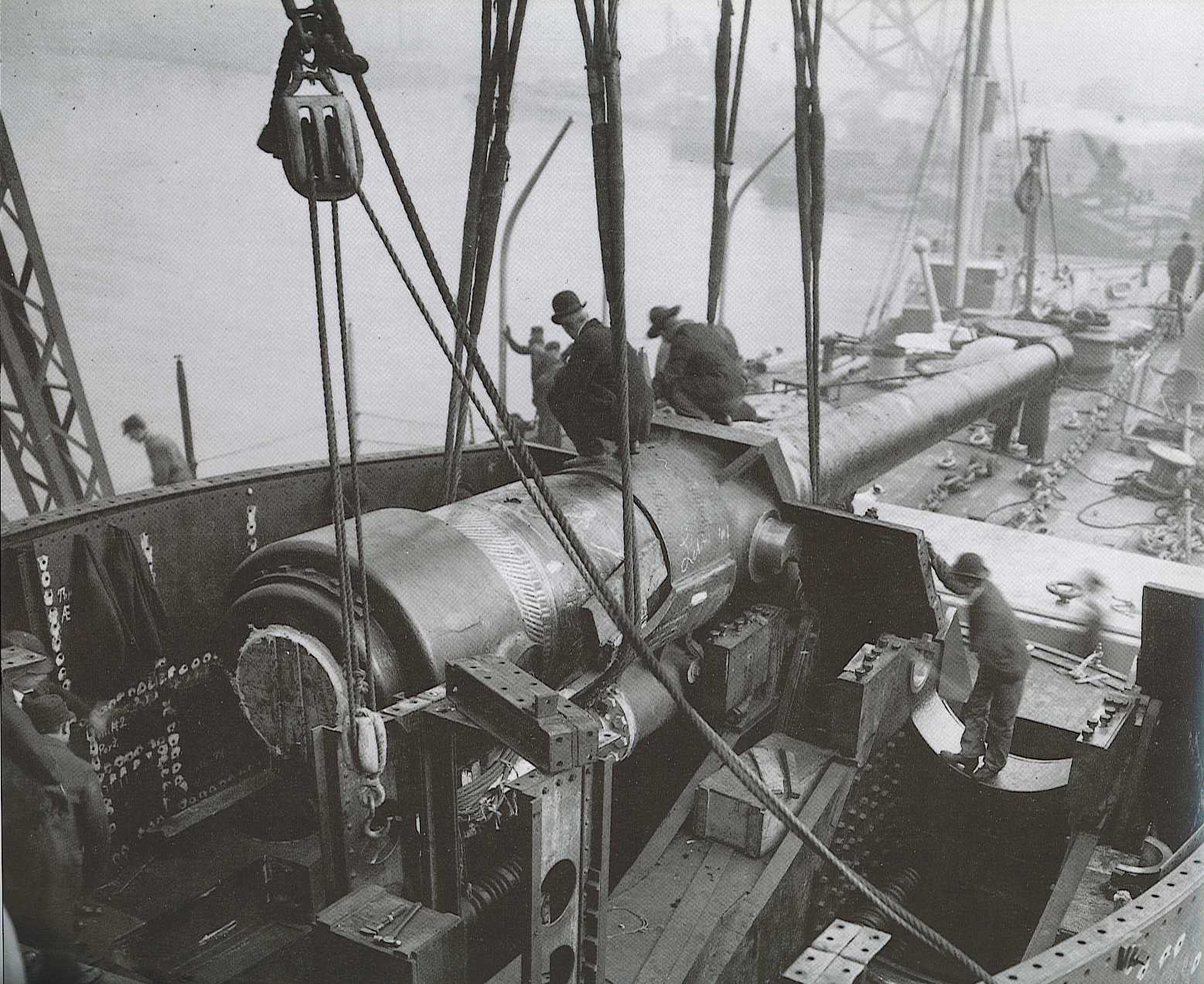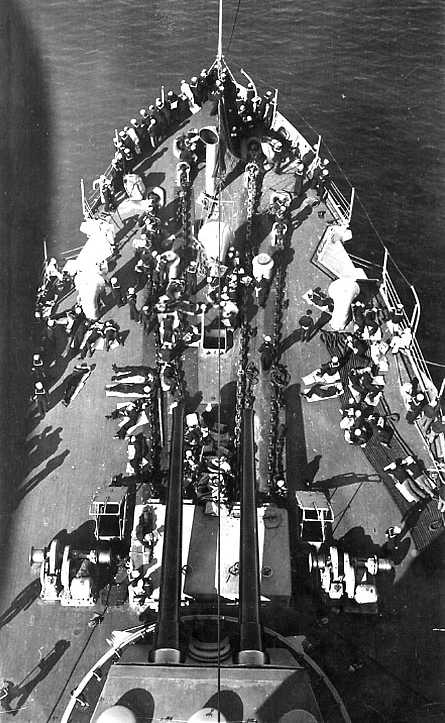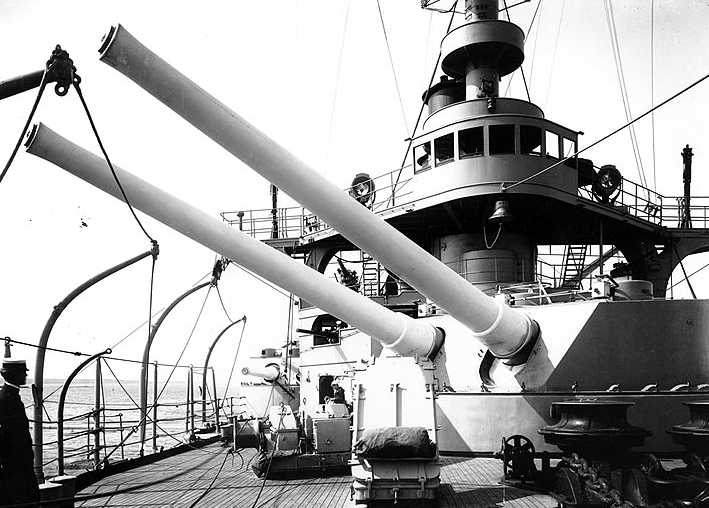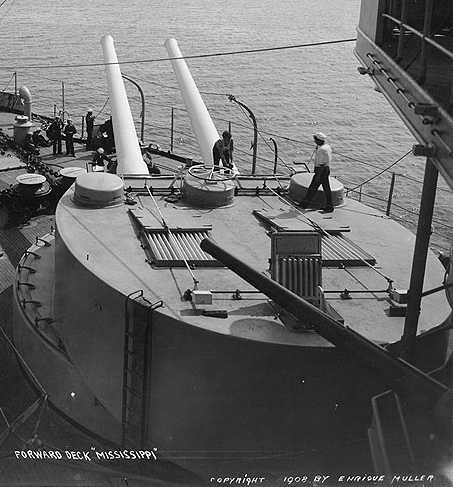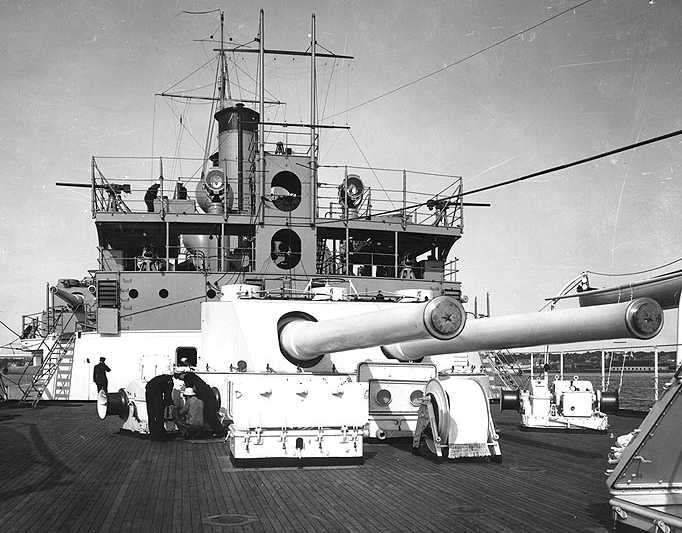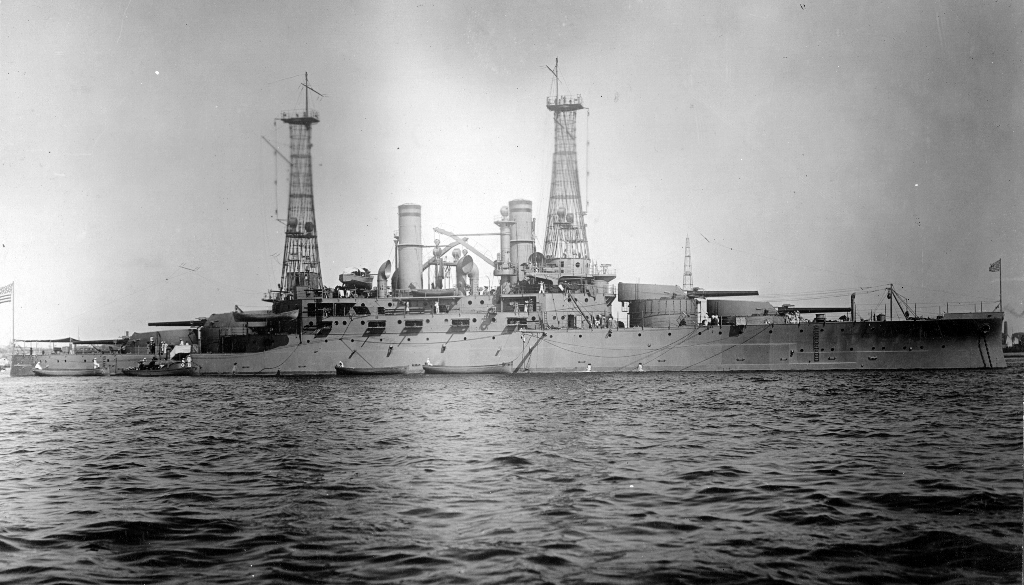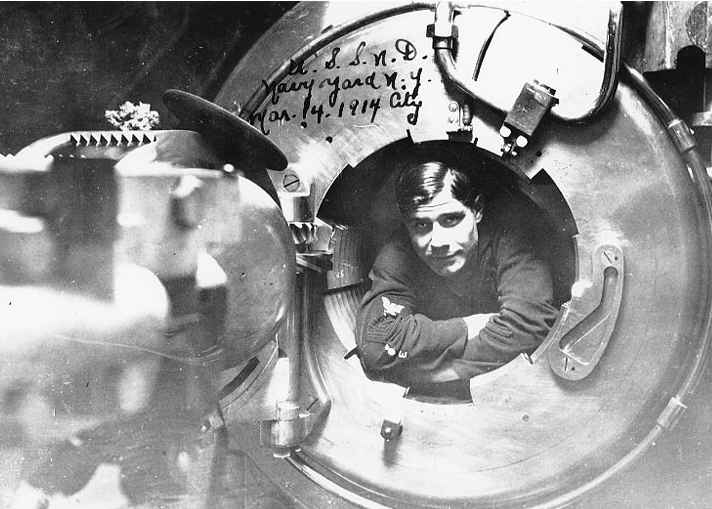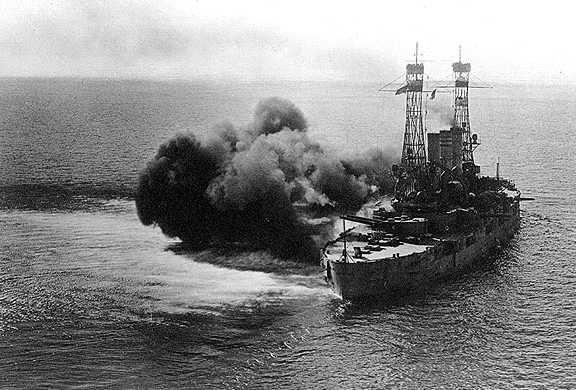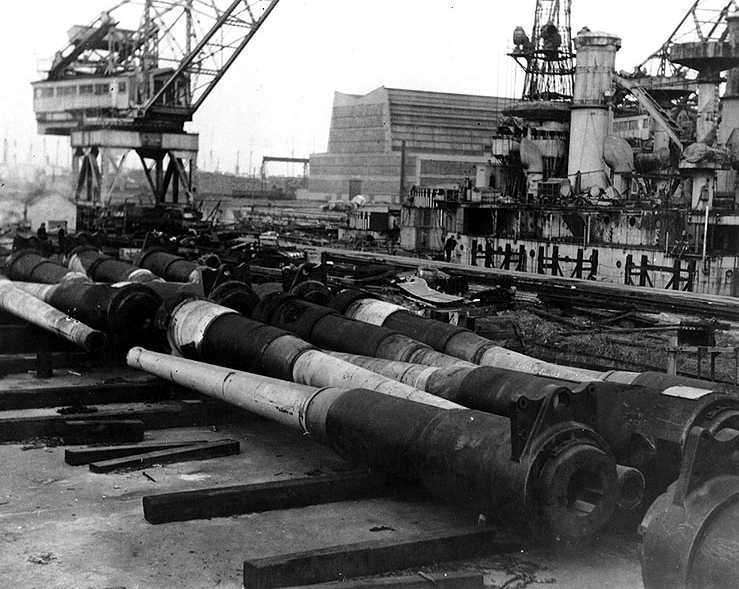 "U.S. Battleships: An Illustrated Design History", "Battleship Design and Development 1905-1945", "The Naval Institute Guide to World Naval Weapon Systems 1991/92" and "US Naval Weapons" all by Norman Friedman
"The Big Gun: Battleship Main Armament 1860-1945" by Peter Hodges
"A Treatise on Rifling of Guns" by Carl F. Jeansén
"Battleships" by Paul Stillwell
"Naval Ordnance - A Text Book" revised in 1915 by Lt. Cmdr. Roland I. Curtain and Lt. Cmdr. Thomas L. Johnson
"The Engineer" 27 April 1917 (as quoted in Warship International No. 1, 1994)
---
"United States Naval Guns: Their Marks and Modifications" Ordnance Pamphlet No. 127, December 1916, Second Revision June 1924
---
Gene Slover's Navy Pages
---
Special help from Leo Fischer
18 September 2008 - Benchmark
10 July 2014 - Added Mount / Turret comments about hyposcope gunsights on USS South Carolina and tests with the monitor USS Florida
11 April 2016 - Converted to HTML 5 format