United States of America
155 mm/62 (6.1") Mark 51 Advanced Gun System (AGS)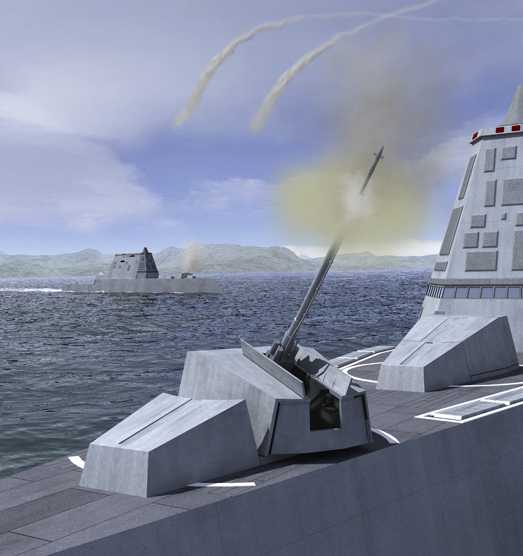 The Advanced Gun System (AGS) was originally being developed as part of the DD-21 program, but is now intended for the DDG-1000 program. This weapon was formerly known as the Vertical Gun for Advanced Ships (VGAS), but as of September 1999 the Navy decided to abandon the truly vertical mounting design and instead utilize a more conventional turret configuration.
As a vertical gun system, this weapon could have used only guided munitions. With the more traditional design, both conventional as well as guided munitions may now be used. The concept of this weapon is thus similar to that of the 5"/62 (12.7 cm) Mark 45 Mod 4 program. Ballistic round development for AGS has been reportedly postponed or cancelled and none of the existing US Army or NATO 155 mm projectiles can be adapted for use in AGS.
The design of this weapon will include a fully automated ammunition magazine to reduce the crew size and to maximize the ammunition capacity. Ammunition for this weapon will use a separate propellant canister, which will be used for both conventional and guided munitions. Proposed projectiles include guided land and surface attack munitions as well as ballistic projectiles using course correcting fuzes (CCF). Planned CEP accuracy for guided weapons is 20 to 50 m (22 to 55 yards). An AGS firing Long Range Land Attack Projectiles (LRLAP) at 12 rounds per minute was considered to be equivalent to one 155 mm artillery battery (6 guns) firing at 2 rounds per gun per minute. However, as part of a weight reduction program, BAE in 2005 derated the ROF of the AGS down to 10 rounds per minute.
In October 2001 the first prototype was successfully proof-tested, firing eleven test projectiles at pressures ranging from 50% below normal to 50% above normal. In April 2003 Lockheed-Martin was selected over Raytheon to continue development of the Long Range Land Attack Projectile (LRLAP). This phase includes the manufacturing of 15 rounds to conduct flight tests and support the AGS Critical Design Review (CDW).
A September 2004 GAO report stated: "While development of the advanced gun system is proceeding as planned and has even overcome early challenges in design and development, the current plans do not include fully demonstrating the maturity of the subsystem. Land based testing of the gun system, including the automated mount and magazine, is planned for the summer of 2005 and flight tests for the munition are set to complete in September of 2005. However, the two technologies will not be tested together until after ship installation. Program officials cited lack of adequate test facilities as the reason for the separate tests."
In June 2005, a Northrop Grumman press release stated that "The LRLAP Guided Flight-four (GF-04) gun test marked the longest successful guided-projectile test in history. The LRLAP, fired at the San Nicolas Island test facility at the Naval Air Warfare Center, Weapons Division, Pt. Mugu, Calif., (NAWC-WD), flew a guided trajectory to an impact location more than 59 nautical miles down range."
In June 2005 United Defense won a $376 million contract from the Naval Sea Systems Command for the continuation of design, development and test of the AGS, including the fully automated gun, magazine and the Long Range Land Attack Projectile (LRLAP), for use aboard the Navy's new DD(X) Destroyer. In July 2005, BAE Systems, who purchased United Defense, awarded Lockheed Martin a $120 million contract for for further development and testing of LRLAP. This cost-plus-award-fee contract covers additional development and tests during 2006-2008 and support to AGS qualification testing during 2009-2010. More than 100 projectiles will be delivered and tested under this contract. Full-rate production is expected to begin in 2011.
A 21 September 2005 US Naval Sea Systems Command press release regarding a rate of fire test for AGS conducted on 31 August 2005 stated: "The test successfully demonstrated a sustained maximum rate of fire of at least ten rounds per minute in eight round bursts, and unloaded eight complete rounds from a pallet in 45 seconds or less. The event also tested a sustained firing capability and reliability by demonstrating the AGS Engineering Development Model gun and magazine are capable of unloading several pallets of ammunition."
A U.S. Department of Defense press release dated 7 April 2006 announced that "the first DD(X) destroyer will be designated DDG 1000. As the lead ship in the class, it will also be named in honor of former Chief of Naval Operations (CNO) Adm. Elmo R. "Bud" Zumwalt, Jr."
A BAE press release dated 26 April 2007 announced that Naval Sea Systems Command had added a $108.9 million cost-plus-award-fee modification to the previously awarded contract for completion of the design, development and integration of the Advanced Gun System (AGS) for DDG-1000.
Perhaps unsurprisingly given the high cost overruns associated with this project, Defense News reported in a 22 July 2008 article that the USN appears ready to halt the DDG-1000 program at only two ships rather than seven - which was already down from the originally planned 32 ships - and to instead build eight to eleven up-rated Arleigh Burke DDG-51 class destroyers, construction of which had been slated to end in 2012. The same article states that the Navy is investigating using the SPY-3 radar system and the AGS gun on these new DDG-51 destroyers.
In 2012 BAE proposed a light-weight version of the AGS for use on the DDG-51 Flight III class that had a simpler mounting. Called the "155mm Advanced Gun System-Lite (AGS-L)," this mounting would have limited ammunition compared to the 5"/62 (12.7 cm) Mark 45 Mod 4 or the standard AGS.
In November 2016 the USN announced that it was abandoning the LRLAP round as its cost had soared to $800,000 to $1 million US per round. A total of 90 rounds had been purchased as of this date, primarily intended for evaluation testing. As AGS was designed specifically for the LRLAP and cannot use any other munition, this basically means that the 155 mm guns on these ships are useless until an alternative round can be developed, probably many years in the future.
In February 2017, Italy-based Leonardo announced a program to verify and test its Vulcano guided ammunition for possible use with the AGS. For data on the Vulcano munitions, see the Italy 127 mm/64 datapage.
Unless otherwise noted, the data that follows is for the standard AGS gun and mounting.
Designation
155 mm/62 (6.1") Mark 51 AGS
Ship Class Used On
AGS - Zumwalt (DDG-1000) class [formerly DD(X) class]
AGS-L - proposed for DDG-51 class
Date Of Design
1996
Date In Service
Planned introduction 2008
Gun Weight
N/A
Gun Length oa
N/A
Bore Length
about 378 in (9.610 m)
Rifling Length
N/A
Grooves
N/A
Lands
N/A
Twist
N/A
Chamber Volume
1,800 in3 (29.5 dm3)
Rate Of Fire
AGS: 10 rounds per minute
AGS-L: 5 to 6 rounds per minute
This weapon was originally designed with a triangular barrel, but this has been dropped in favor of a conventional cylindrical, water-cooled design.
A 2003 MIT study recommended that a prototype be mounted on USS Thorn (DD-988) for evaluation purposes, but this idea was not carried out and Thorn was sunk as a target in July 2006.
Type
Separate
Projectile Types and Weights
See Note 1
LRLAP - about 225 lbs. (102 kg)
Ballistic Long Range Projectile - about 200 lbs. (90 kg)
Bursting Charge
LRLAP - 25 lbs. (11 kg) PBXN-9
Ballistic Long Range Projectile - N/A
Projectile Length
LRLAP - 88.28 in (224.2 cm)
14.5 calibers maximum
Propellant Charge
N/A
Muzzle Velocity
2,707 fps (825 mps)
Working Pressure
20 tons/in2 (3,164 kg/cm2)
Approximate Barrel Life
N/A
Ammunition stowage per gun
(see Note 6)
DDG-1000 (AGS): about 335 rounds
DDG-51 (AGS-L): 180 rounds
As noted above, both the LRLAP and the Long Range Ballistic Projectile have been cancelled, leaving the AGS without any viable munition. All data in this table are for these two cancelled rounds.
Service introduction of LRLAP (IOC) is scheduled for FY2014.
Proposals for the ballistic projectiles include a navalized version of the NATO 155 mm round fitted with a more streamlined cap. However, development of all ballistic projectiles has been postponed or cancelled as of 2006 and it is not known when or if this development program will be resumed.
In July 2004, Terry Bowman, Lockheed Martin business development spokesman, was projecting that the LRLAP round would have "a cost of $35,000 per round. It will definitely be a challenge." As the forecasted cost of the 5" (12.7 cm) ERGM round is at least $50,000, it would seem to be unlikely that the much larger LRLAP round would be so significantly less expensive.
The fully automated 155 mm ammunition magazines on the new DD(X) ships are expected to require about 13 hours to resupply at sea including 50 nm transit time (this assumes calm waters). The variety of ammunition types should not affect the resupply rate of this automated magazine. Actual resupply times for DD(X) will not be known until the final design and manning level is available. As the guns are located on the bow and the helicopter platform on the stern, it is claimed that the DD(X) can continue firing while being resupplied.
As of April 2005, the DDG-1000 is said to have an outfit of 600 long range ballistic rounds plus 70 LRLAP rounds. There is also an auxiliary storeroom which can hold an additional 320 rounds of ammunition, but this storeroom is not part of the automated magazine supply system. Using this storeroom would thus require that ammunition be manually transferred both into the storeroom and out to one of the automated magazines. Such an operation may be severely hampered by the small crew size intended for DDG-1000.
To support the fully-automated magazine concept, all ammunition is to be supplied in prepackaged modules of eight rounds each, containing both projectiles and cartridges. The magazine handling system is capable of unloading all eight rounds in 45 seconds or less. The modular packaging within the magazine allows the guns to feed directly from the magazines without manual intervention. This automated magazine design thus requires considerably less crew to operate than the previous 5"/54 (12.7 cm) or 5"/62 (12.7 cm) guns, which feed from a single 20-round drum which requires manual reloading.
Ranges of projectiles fired at new gun muzzle velocities

| Land Attack Guided Projectile | Ballistic Long Range Projectile |
| --- | --- |
| About 100 nm (180 km) | About 24 nm (44 km) |
Designation
DDG-1000 (2): AGS (no formal designation yet assigned)
DDG-51 Flight III (1): AGS-L (no formal designation yet assigned)
Weight
AGS: 104 tons (106 mt)
AGS-L: 50 tons (51 mt)
Elevation
AGS: -5 / +70 degrees
AGS-L: N/A
Elevation Rate
N/A
Train
N/A
Train Rate
N/A
Gun recoil
N/A
All moving components are electrically driven.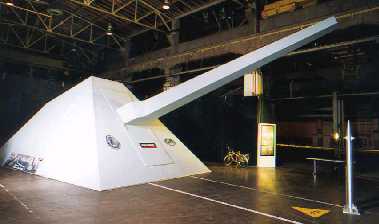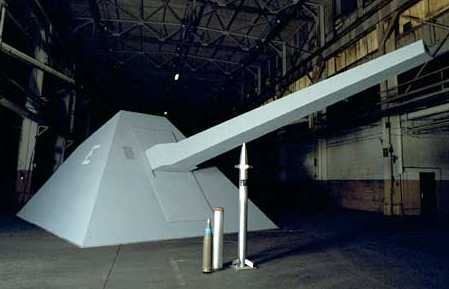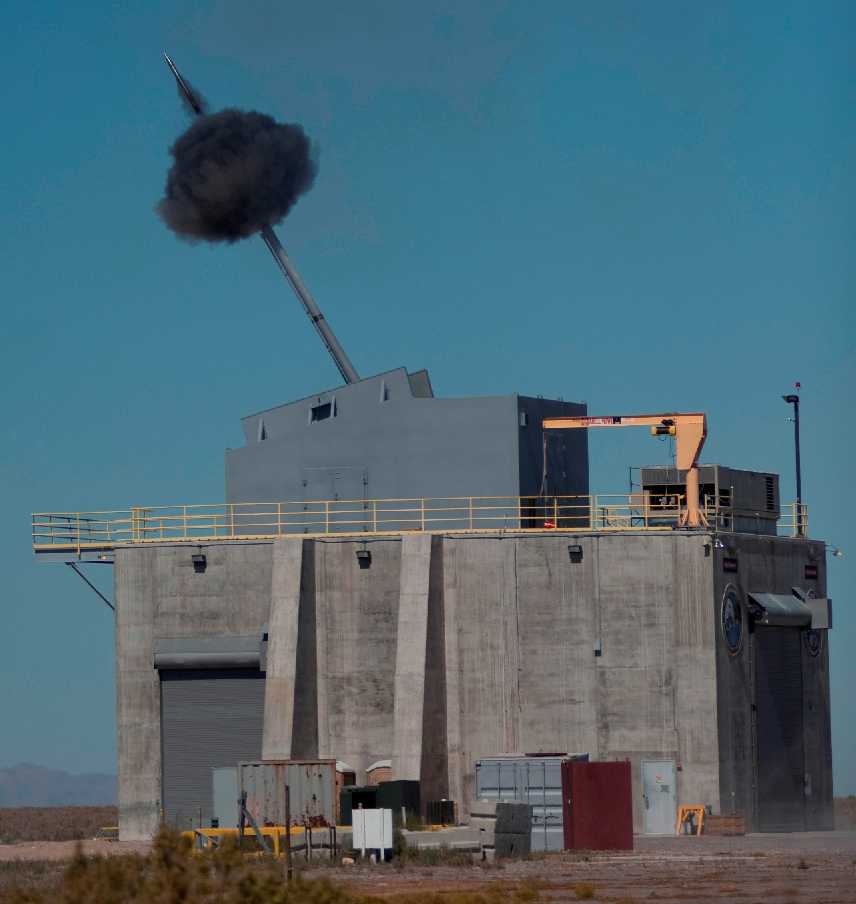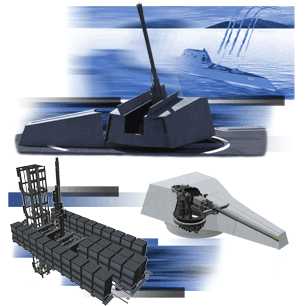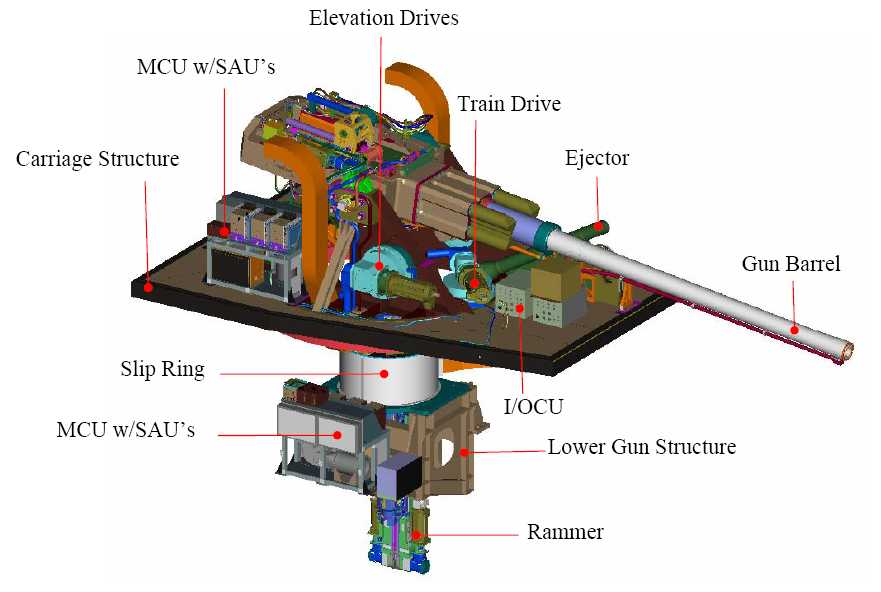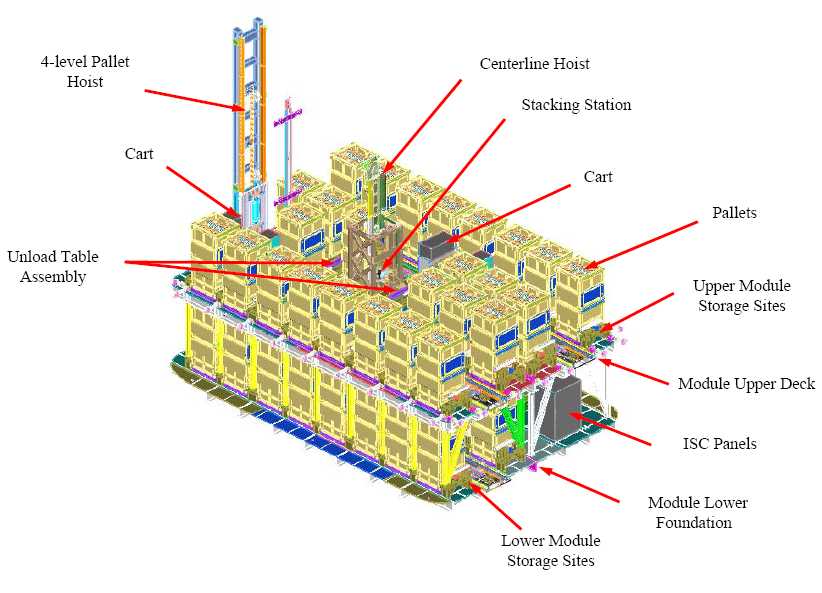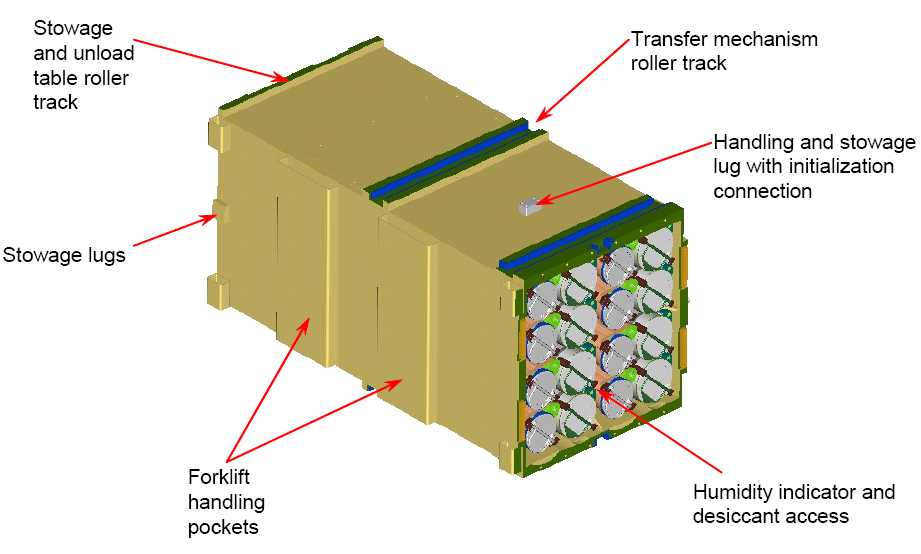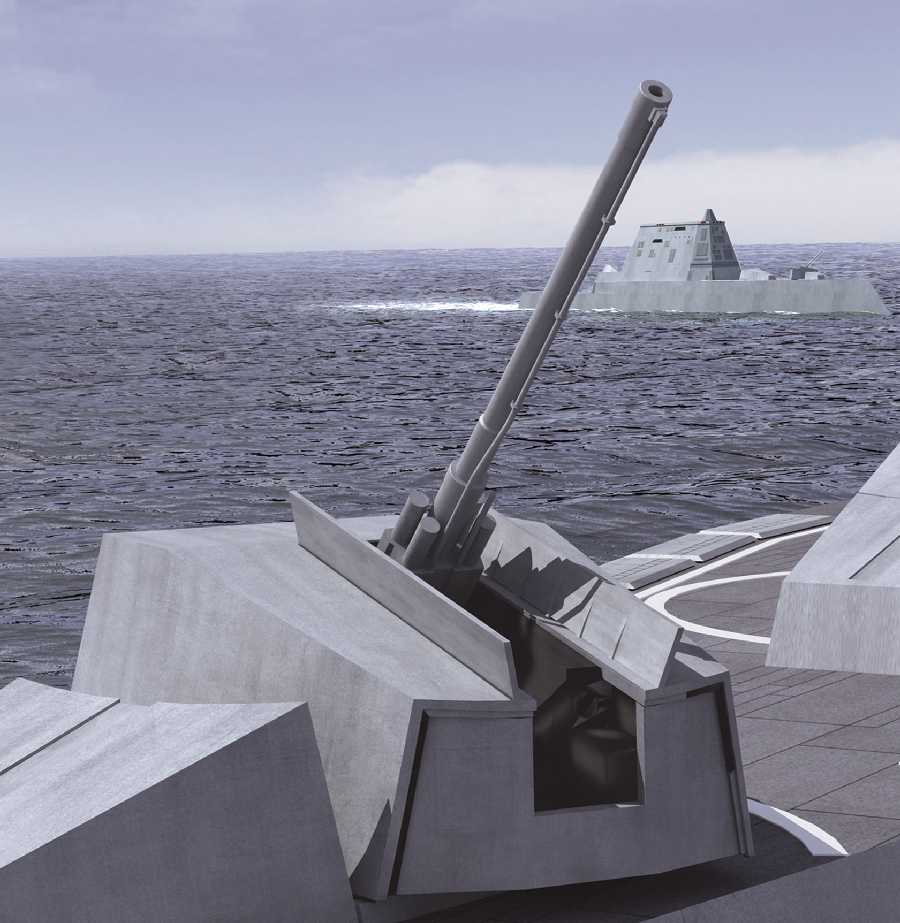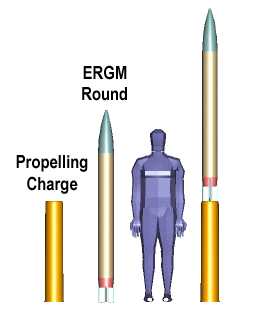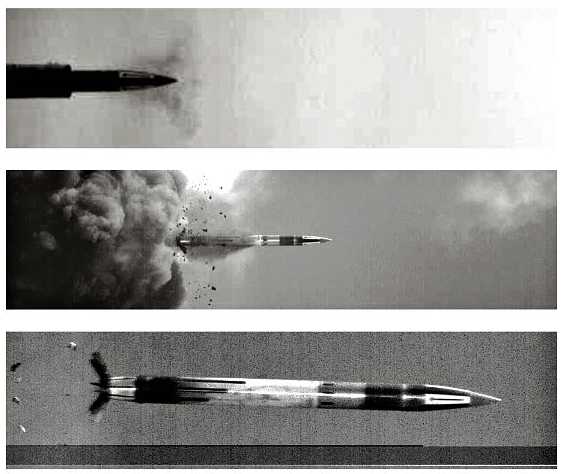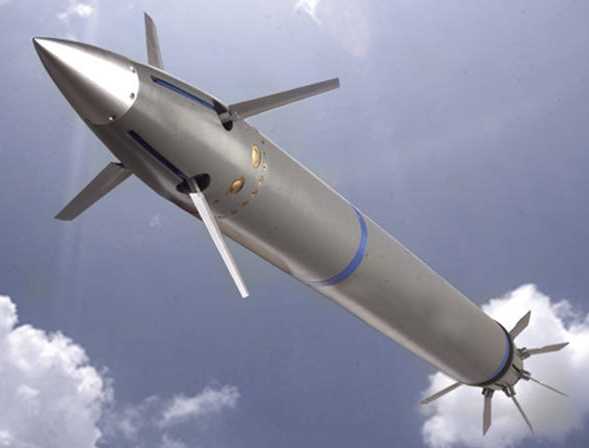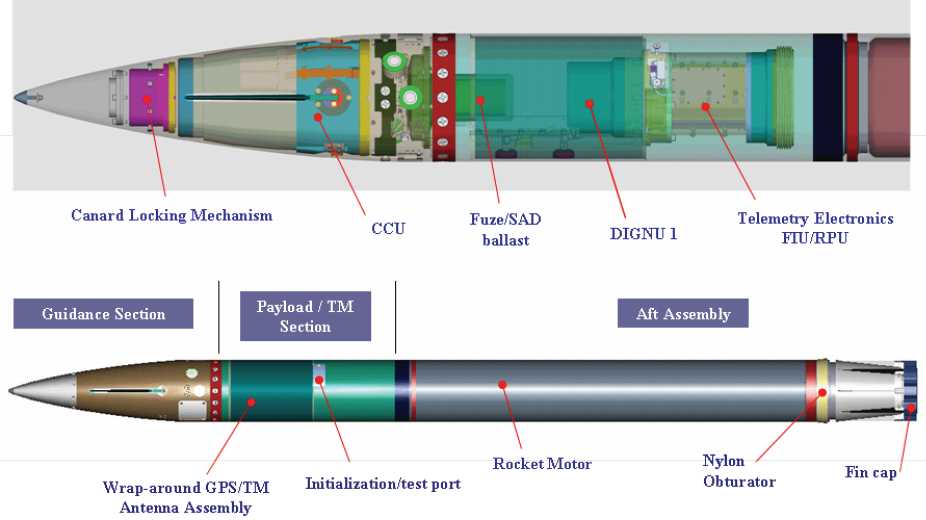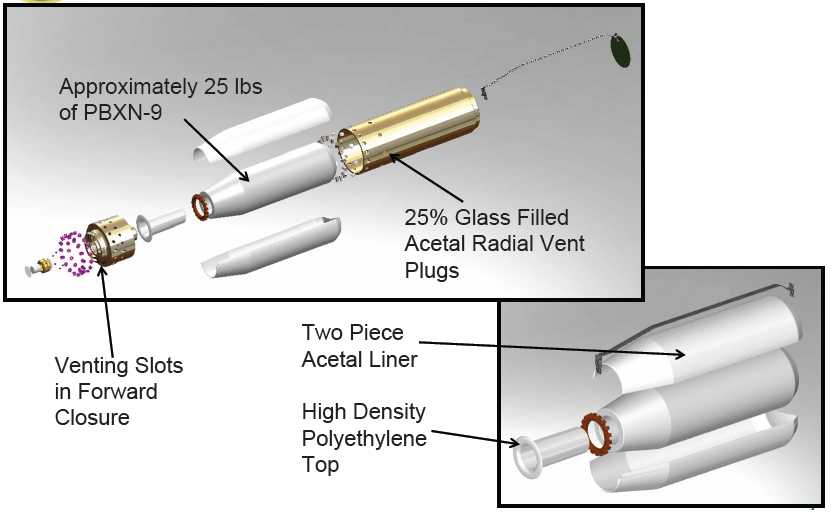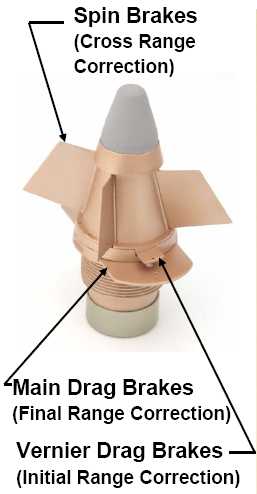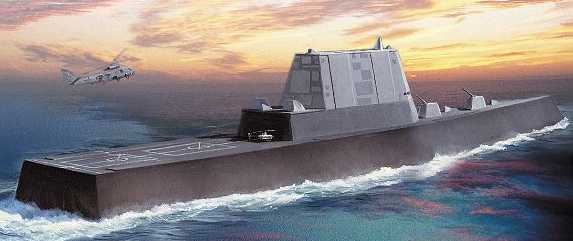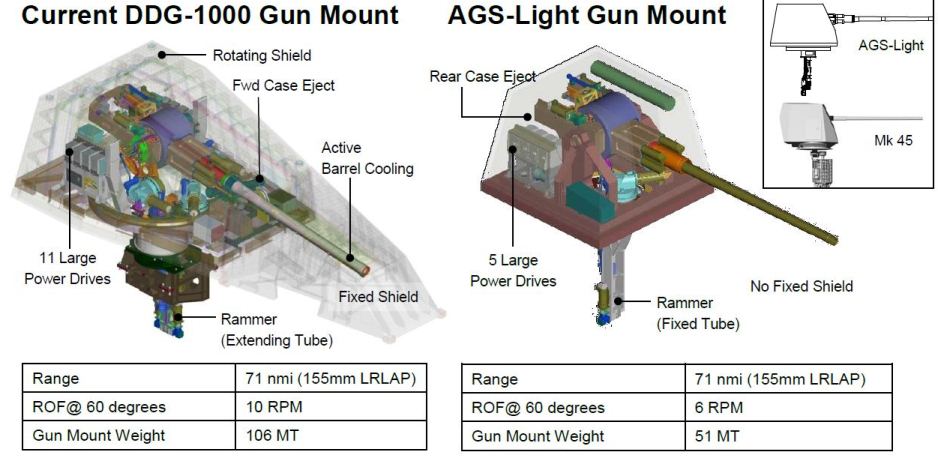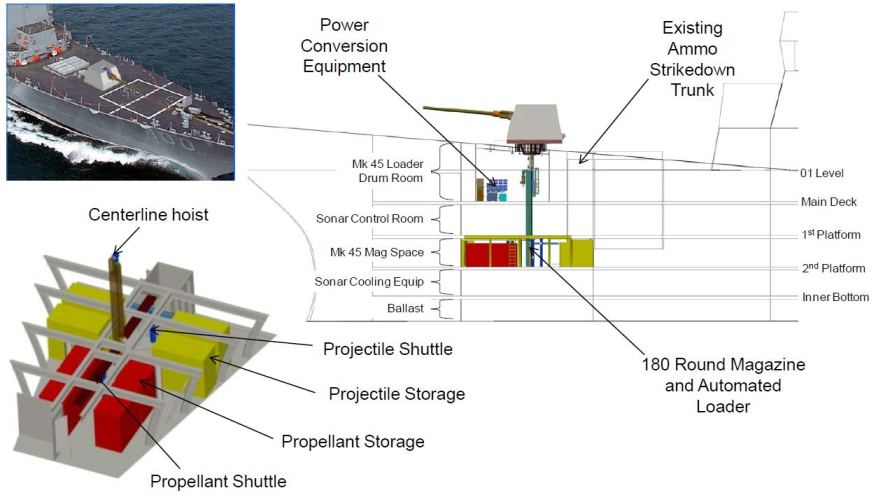 GAO Report GAO-04-973 "Challenges Facing the DD(X) Destroyer Program"
GAO Report GAO-06-279R "Issues Related to Navy Battleships"
---
Statement of Lt. Gen. Magnus USMC and Lt. Gen Mattis USMC before the Seapower Subcommittee of the Senate Armed Services Committee on 19 April 2005
Statement of Jim Schoppenhorst, Director, DD(X) BAE Systems / Armament Systems Division, before the House Armed Services Committee's Subcommittee on Projection Forces on 20 July 2005
---
"Naval Electromagnetic (EM) Gun Technology Assessment" by J. Bachkosky, D. Katz, R. Rumpf and W. Weldon of the Naval Research Advisory Committee
"United Defense Course Correcting Fuze for the Projectile Guidance Kit Program" by Tom Hillstrom and Paul Osborne, presented at the NDIA 49th Annual Fuze Conference
"AGS Gun and Magazine" by James A. Kidwell of the Naval Surface Warfare Center, Port Hueneme Division, presented at the NDIA 43rd Annual Armament Systems: Gun and Missile Systems Conference & Exhibition
"Advanced Gun Barrel Technology Program" by Mr. Bill Vezina, BAE Systems, presented at the NDIA Joint Armaments Conference, Exhibition & Firing Demonstration, May 2010
"Long Range Land Attack Projectile (LRLAP)" by John Rinko of the Naval Surface Warfare Center, Dahlgren Division, presented at the NDIA 43rd Annual Armament Systems: Gun and Missile Systems Conference & Exhibition
"Warhead Development for the Long Range Land Attack Projectile" by Tyrus Burford, General Dynamics and Aaron Warriner, Lockheed Martin Missiles and Fire Control, presented at the NDIA 44th Annual Armament Systems: Gun and Missile Systems Conference & Exhibition
"The 155mm Advanced Gun System-Lite (AGS-L) for DDG-51 Flight III" by Mr. Brent Weyer and Mr. Al Panek, BAE Systems Land & Armaments, presented at the NDIA 2012 Joint Armaments Conference Exhibition and Firing Demonstration
---
Concept of Operations for Surface Combat Land Attack Warfare, 2005-2015
DD (X) Website (Formerly DD-21 Website)
Advanced Gun System (AGS) Backfit to USS Thorn DD-988
---
"DDG-1000 program will end at Two Ships" article by Christopher P. Cavas, web-published at Defense News on 22 July 2008
"Navy Planning on Not Buying More LRLAP Rounds for Zumwalt Class" by Sam LaGrone, web-published at USNI News
"Leonardo's Vulcano 155 mm guided ammunition to be tested by USN" by Luca Peruzzi, web-published at IHS Jane's 360
---
Bath Iron Works Press Releases
DD (X) National Team Press Releases
Lockheed Martin Missiles and Fire Control Press Releases
Northrop Grumman Press Releases
Office of Naval Research Press Releases
Raytheon Press Releases
United Defense Press Releases
US Navy Press Releases
11 August 2008 - Benchmark
14 October 2009 - Minor revisions, updated note about USS Thorn, added "Warhead Development" NDIA source, added pictures of September 2009 test shot and LRLAP Warhead design
03 June 2010 - Added "Advanced Gun Barrel Technology Program" NDIA source
11 November 2012 - Added information and sketches on the AGS-L
09 June 2016 - Converted to HTML 5 format
08 November 2016 - Production halt of LRLAP
26 February 2017 - Evaluation of Vulcano for AGS
29 December 2018 - Minor changes