United Kingdom / Britain
12"/45 (30.5 cm) Mark XIII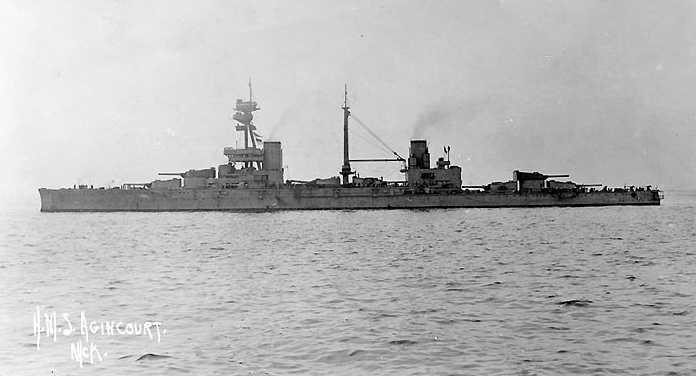 These were Elswick Pattern W guns developed for the Brazilian Navy for installation on the battleship Rio de Janeiro. They were an improved version of the Elswick 12"/45 (30.5 cm) Pattern L guns used to arm the Brazilian battleships Minas Gerais and Sao Paulo. The design of the Mark XIII guns was very similar to that for the 12"/45 (30.5 cm) Mark X guns used on HMS Dreadnought, but they were not interchangeable with them.
Rio de Janeiro was a very unusual design in that she had seven twin turrets fitted, the most of any dreadnought ever built. The turrets themselves were developed by Elswick as a more or less private venture and their design was then carried over to the 14" (35 cm) twin turrets developed for HMS Canada (ex-Almirante Latorre).
Rio de Janeiro was taken over by the British at the start of World War I and renamed HMS Agincourt.
It is noted that when she was first taken over, Agincourt lacked sub-caliber guns and as a result firing practices were restricted and her battle efficiency was reduced. There were many problems with the newly designed hydraulic loading gear during her first firing trials and the electric igniters failed to function at the first salvo, requiring use of the back-up percussion method. There were also problems with the shells themselves, which showed an alarming tendency to break up in flight. This was attributed to the age of the shells, some of which were stenciled "Repaired in 1892." There were also design problems with the guns, such as the butt strap joining A and B tube which was thought to impede the projectiles as they passed and to a poorly designed forcing cone, which was thought to cause the shells to not seat properly.
At Jutland (Skagerrak) she was in action for a short period and where it was reported that the sheet of flame generated when she fired her guns "was big enough to create the impression that a battle cruiser had blown up; it was awe inspiring." Agincourt fired a total of 144 rounds from her 12" (30.5 cm) guns during this battle, her only combat engagement.
HMS Agincourt is notable for having had Dr. Oscar Parkes, author of "British Battleships: 1860 - 1950," as a crewmember.
Constructed of a heavy inner A tube in three parts, full length wire, B tube and jacket along with breech bush, screwed on ring and Welin breech block. A total of fourteen guns were made and a further seven to a modified design which had a one-piece A tube and tapered inner A tube.
Designation
12"/45 (30.5 cm) Mark XIII
Ship Class Used On
Agincourt
Date Of Design
1910
Date In Service
1914
Gun Weight
Without Breech: 127,232 lbs. (57,711 kg)
Gun Length oa
556.7 in (14.140 m)
Bore Length
540 in (13.716 cm)
Rifling Length
N/A
Grooves
N/A
Lands
N/A
Twist
N/A
Chamber Volume
14,583 in3 (239 dm3)
Rate Of Fire
(see Note)
about 1.5 rounds per minute
The Rate of Fire figure given above is found in references for British guns of this caliber, but "Warrior to Dreadnought: Warship Development 1860-1905" quotes Jellicoe's 1906 figures for rates of fire for these guns in gunlayers' tests and in battle practice and notes that the latter figures corresponded well to those actually attained by the Japanese at Tsushima:
Gunlayers Test: 2 rounds per minute
Battle Practice: 1 round per minute
Type
Bag
Projectile Types and Weights
(see Note 1)
APC Mark VI (2crh) - 850 lbs. (386 kg)
APC Mark VIa (4crh) - 859.4 lbs. (389.8 kg)
CPC Mark VIIa - 850 lbs. (386 kg)
HE Mark IIa - 850 lbs. (386 kg)
Bursting Charge
APC Mark VI - 26.3 lbs. (11.9 kg)
APC Mark VIa - 27.3 lbs. (12.4 kg)
CPC Mark VIIa - 80 lbs. (36.3 kg)
HE Mark IIa - 106.5 lbs. (48.3 kg)
Projectile Length
APC Mark VI - 39.7 in (100.8 cm)
APC Mark VIa - N/A
CPC Mark VIIa - 48.4 in (122.9 cm)
HE Mark IIa - 48.3 in (122.7 cm)
Propellant Charge
(see Note 2)
258 lbs. (117 kg) MD45
Muzzle Velocity
2,725 fps (831 mps)
Working Pressure
N/A [probably 18 tons/in2 (2,837 kg/cm2)]
Approximate Barrel Life
N/A
Ammunition stowage per gun
N/A (probably about 80 rounds)
Projectile weights from ADM 186/169. The sources below disagree as to muzzle velocity, propellant charge weights and maximum ranges. I have chosen to use those values given in "Jutland: An Analysis of the Fighting." As Agincourt was not designed by the Royal Navy, she was often on the bottom of the priority list when it came to new equipment. For example, it is noted that Agincourt received very old shells for her initial outfit, some dating back to the 1890s. For this reason, I believe it to be unlikely that she was ever given "Greenboy" APC projectiles. She was probably given 4crh projectiles sometime during the war, perhaps after depleting her outfit during Jutland (Skagerrak).
"British Naval Guns 1880-1945 No 4" says that the propellant weight was "285 lbs. (129.3 kg) MD45." However, I believe this to be a misprint, as the chamber volume, muzzle velocity and ballistic properties are noted in this same article as being identical to those for the 12"/45 (30.5 cm) Mark X. For this reason, the propellant weight shown above is the same as that for the Mark X.
AP Cap weight was 34.75 lbs. (15.7 kg) for the APC Mark VIa.
Ranges of 2crh AP projectiles

| Elevation | Range |
| --- | --- |
| Elevation | With 850 lbs. (386 kg) AP Shell 4crh |
| 13.5 degrees | 18,850 yards (17,236 m) |
| 16 degrees | 20,435 yards (18,690 m) |
Penetration of 2crh AP projectiles

| Range | KC Side Armor | Striking Velocity |
| --- | --- | --- |
| 0 yards (0 m) | 16.0" (406 mm) | 2,850 fps (869 mps) |
| 10,000 yards (9,144 m) | 10.6" (269 mm) | 1,900 fps (579 mps) |
Data from "British Battleships of World War Two" for an uncapped AP shell striking a plate at 90 degrees, i.e., with the axis of the shell perpendicular to the face of the plate. A capped shell would show about 10 to 20% improvement at low velocities and about 30 to 50% improvement at high velocities.
Penetration of AP projectiles

| Range | KC Side Armor |
| --- | --- |
| 7,600 yards (6,950 m) | 12" (305 mm) |
Data from "British Battleships: 1860 - 1950" and may reflect the performance of an APC projectile.
Designation
Two-gun Mount
Agincourt (7): 12in "Special"
Weight
460 tons (467 mt)
Elevation
-3 / +13.5 degrees
Rate of Elevation
N/A
Train
(see Note 2)
Forward, Aft and Superfiring turrets: About -150 / +150 degrees
Others: About +30 / +150 to either side
Rate of Train
N/A
Gun Recoil
N/A
Loading Angle
+5 degrees
These mountings were reworked during World War I to increase their maximum elevations to +16 degrees, a rather costly operation for the small increase in range thus achieved.
Superfiring turrets could not fire within 30 degrees of the axis because the blast effects would have penetrated into the lower turrets through the sighting hoods.
Turrets were named after the days of the week (Monday, Tuesday, etc.).
During construction special care was taken to buttress the ship against the hull stress caused by broadside firing and turret weight. Longitudinal girders were fitted beneath the quarterdeck to support the weight of the three turrets in this area.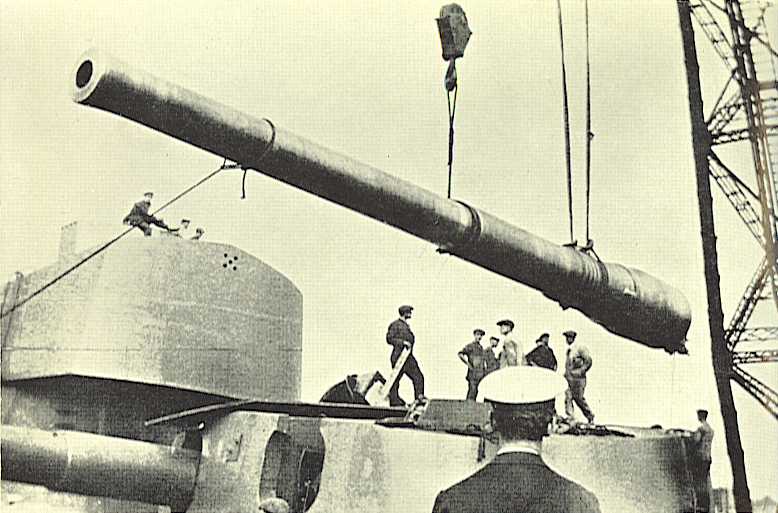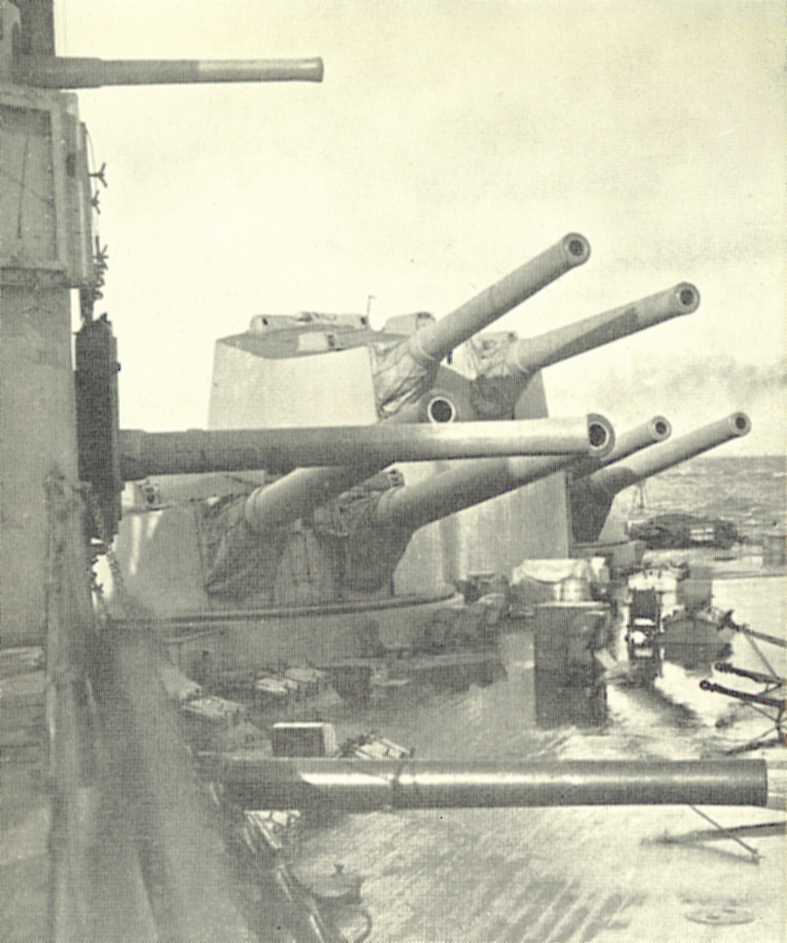 "Warrior to Dreadnought: Warship Development 1860-1905" and "The Grand Fleet: Warship Design and Development 1906-1922" both by D.K. Brown
"British Battleships of World War One" by R.A. Burt
"Jutland: An Analysis of the Fighting" and "British Naval Guns 1880-1945 No 4" article in "Warship Volume V" both by John Campbell
"The Big Gun: Battleship Main Armament 1860-1945" by Peter Hodges
"Battleships of World War I" by Peter Hore
"The Big Battleship" by Richard Hough
"British Battleships: 1860 - 1950" by Oscar Parkes
"British Battleships of World War Two" by Alan Raven and John Roberts
"A Concentrated Effort: Royal Navy Gunnery Exercises at the End of the Great War" article by William Schleihauf in "Warship International" No. 2, 1998
---
ADM 186/169
---
Special help by Neil Stirling
05 December 2007 - Benchmark
20 February 2009 - Fixed typographical errors
04 February 2014 - Added note regarding quarter deck strengthening
23 September 2016 - Converted to HTML 5 format