Britain
6"/50 (15.2 cm) BL Mark XIII
Updated 11 February 2012

---
These guns were an Elswick design generally similar to the Mark XI and developed for the Brazilian battleship Rio de Janeiro. That ship was taken over by the British and renamed HMS Agincourt at the start of World War I. After she was scrapped, these guns were then reused in the gunboats HMS Aphis and HMS Ladybird in 1939. Some guns were used in emergency coast defense batteries during World War II.
Constructed of inner A tube, A tube and breech piece joined by a securing collar, wire, B tube, jacket, breech ring and breeech bush. Spare guns differed in having a B tube and jacket rather than a full-length jacket. Used a hand-worked Welin breech-block. A total of 24 guns were built.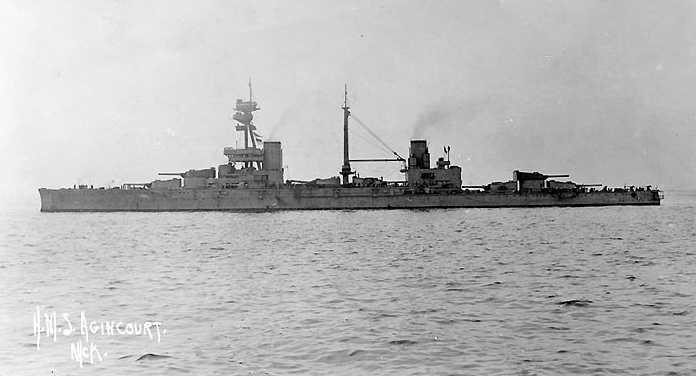 HMS Agincourt
The 6" (15.2 cm) guns are in casemates along the sides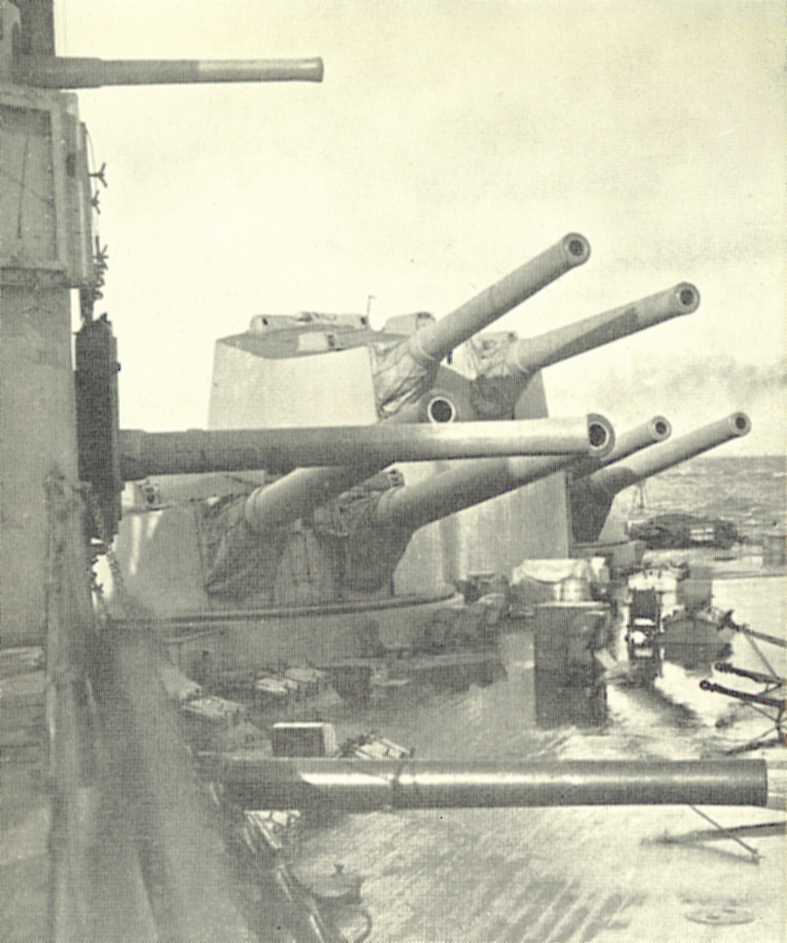 Stern cluster of 12"/45 (30.5 cm) Turrets with 6" (15.2 cm) guns in forground and 3" (7.62 cm) at top left
Click on this picture for a larger image

.
---
Gun Characteristics

.
Designation
6"/50 (15.2 cm) BL Mark XIII
Ship Class Used On
HMS Agincourt
HMS Aphis and HMS Ladybird in 1939
Date Of Design
1912
Date In Service
1914
Gun Weight
19,660 lbs. (8,918 kg)
Gun Length oa
310.4in (7.867 m)
Bore Length
300.0 in (7.620 m)
Rifling Length
N/A
Grooves
N/A
Lands
N/A
Twist
N/A
Chamber Volume
1,550 in3 (25.40 dm3)
Rate Of Fire
(see Note)
5 - 7 rounds per minute
Note: The Rate of Fire figure given above is found in references for British guns of this caliber, but "Warrior to Dreadnought: Warship Development 1860-1905" quotes Jellicoe's 1906 figures for rates of fire for these guns in gunlayers' tests and in battle practice and notes that the latter figures corresponded well to those actually attained by the Japanese at Tsushima:

Gunlayers Test: 12 rounds per minute
Battle Practice: 4 rounds per minute

In "Jutland: An Analysis of the Fighting" by John Campbell, it is stated that almost all British capital ships had few or slow hoists for their 6" (15.2 cm) guns and that once the ready ammunition was used up, the rate of fire dropped to about 3 rounds per minute.
.
---
Ammunition

.
Type
Bag
Projectile Types and Weights
CPC 4crh - 100 lbs. (45.3 kg)
HE 4crh - 100 lbs. (45.3 kg)
Bursting Charge
CPC - 7.5 lbs. (3.4 kg)
HE - 13.3 lbs. (6.0 kg)
Projectile Length
CPC - 23.5 in (59.7 cm)
HE - 22.9 in (58.2 cm)
Propellant Charge
24.6 lbs. (11.2 kg) MD26
24.4 lbs. (11.1 kg) SC140
Muzzle Velocity
2,770 fps (844 mps)
Working Pressure
N/A
Approximate Barrel Life
N/A
Ammunition stowage per gun
about 150 rounds
.
---
Range

.
| | |
| --- | --- |
| Elevation | With 100 lbs. (45.36 kg) CPC Shell |
| Range @ 15 degrees | 13,475 yards (12,320 m) |
.
---
Mount / Turret Data

.
Designation
Single Mount
Agincourt (20): PXI
Weight
N/A
Elevation
Originally -7 / +13 degrees
Later -7 / +15 degrees and then to -7 / +20 degrees
Elevation Rate
Manual operation, only
Train
about -80 / +80 degrees
Train Rate
Manual operation, only
Gun recoil
N/A
Note: Two guns were removed in 1918.
.
---
Data from
"Warrior to Dreadnought: Warship Development 1860-1905" by D.K. Brown
"Naval Weapons of World War Two" and "British Naval Guns 1880-1945 No 12" article in "Warship Volume VIII" both by John Campbell
"The Big Battleship" by Richard Hough
"British Battleships: 1860 - 1950" by Oscar Parkes
"A Concentrated Effort: Royal Navy Gunnery Exercises at the End of the Great War" article by William Schleihauf in "Warship International" No. 2, 1998
---
Page History

07 January 2007 - Benchmark
30 January 2009 - Fixed minor typographical error
11 February 2012 - Updated to latest template