United States of America
0.50"/72 (12.7 mm) M3M FN Herstal MG (GAU-21)
Although the 0.50" (12.7 mm) M2 BMG has been used in the US Military for decades and is very well liked, the Department of Defense has been looking for a replacement weapon with a higher rate of fire, greater accuracy and increased reliability.
A January 2004 U.S. NAVAIR Press Release announced that Fabrique Nationale Herstal, S.A. (FN Herstal), located in Herstal, Belgium, was being awarded a $9,612,445 firm-fixed-priced contract for the procurement of 136 M3M 0.50" (12.7 mm) caliber machine guns and 24 spare M3M machine guns.
Quoting from the release: "The U.S. Navy configuration of the M3M system, called the GAU-21, is planned to be common to all U.S. Navy and Marine Corps assault support rotary-wing aircraft. The GAU-21 .50 caliber weapon system includes: a pintle mounted .50 caliber machine gun with an open bolt design, the capability to use 100, 300 or 600 round ammunition cans, the capability to fire all standard NATO .50 caliber ammunition, the ability to maintain or increase the available fields of fire for each airframe, and the capability for dismounted operation by one person within two minutes.
"The GAU-21 weapon system will be capable of being mounted on each of the following platforms: CH-46, CH-53, H-60, UH-1, and MV-22 aircraft to include left and right door mounts, the ramp mount for the CH-53, and integration onto the Improved Defensive Armament System (IDAS) for the UH-1 aircraft. The weapon system includes compatibility with Night Vision Device (NVD) capable targeting, pointing and illuminating laser systems. The operation of the weapon, along with the ammunition handling, feed, and storage system does not require electrical power from the aircraft or any other source."
The M3M is a weapon system rather than just a machine gun. The system has three parts: The Machine Gun, the Medium Pintle Head (MPH) or "Soft Mount", and the Cradle, which is used to integrate the weapon into a particular aircraft or vehicle.
An optional Integrated Illuminator/Laser spotting device gives this weapon a day/night capability.
Three important differences between the M3M and the M2 BMG: 1) The new weapon uses an open bolt; 2) has an internal recoil spring, and; 3) a significantly longer barrel life. The first difference means that cook-offs are far less likely to occur while the second point means that the M3M has only a third as much non-compensated recoil as compared to the M2 BMG. As a personal note, I have been on a firing range where three out of four M2 BMGs had cook-offs following prolonged firing.
Some problems noted during the initial evaluation of this weapon by the US Marines in 2001 included: 1) Significantly increased reload times compared to the M2 BMG. 2) Lengths of rounds were repeatedly pulled from the 100 round magazines by the airstream, "resulting in hazards to personnel and equipment." 3) Lack of a flash suppressor, which made this weapon almost impossible to use with night-vision equipment.
The feed system for 600 round magazines has been modified to reduce the air stream problem and FN Herstal has added a flash suppressor, as can be seen below in the second photograph.
Designation
0.50"/72 (12.7 mm) M3M FH Herstal MG
Ship Class Used On
Rotary-wing aircraft
Date Of Design
N/A
Date In Service
2001-2003 (evaluation)
2004 (service)
Weight
79.9 lbs. (35.8 kg)
Gun Length oa
59.8 in (1.520 m)
Barrel length
36 in (0.914 m)
Rifling Length
31.5 in (0.800 m)
Grooves
8
Lands
N/A
Twist
N/A
Chamber Volume
1.5 in3 (24.6 cm3)
Rate Of Fire
950 - 1,100 rounds per minute cyclic
200 rounds per minute practical
Type
Fixed
Weight of Complete Round
0.255 lbs. (0.116 kg)
Projectile Types and Weights
Bullet - 1.71 oz (48.5 gm)

See "Off-Site Resources" below

Bursting Charge
Solid bullet
Projectile Length
N/A - Complete round 5.45 in (13.84 cm)
Propellant Charge
0.54 oz (15.3 gm) NC tube
Cartridge
0.5 x 3.9 in (12.7 x 99 mm)
Muzzle Velocity
2,887 fps (880 mps)
Working Pressure
N/A
Approximate Barrel Life
10,000 rounds
Ammunition stowage per gun
Belts can be as long as 600 rounds
The 600-round magazine weighs about 211 lbs. (96 kg).
Ranges of projectiles

| Elevation | Range |
| --- | --- |
| Effective | 2,020 yards (1,850 m) |
| Maximum | 7,110 yards (6,500) |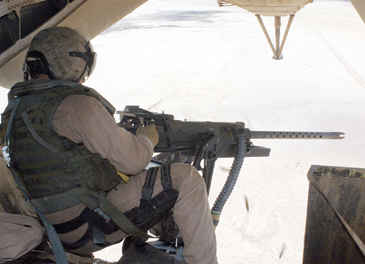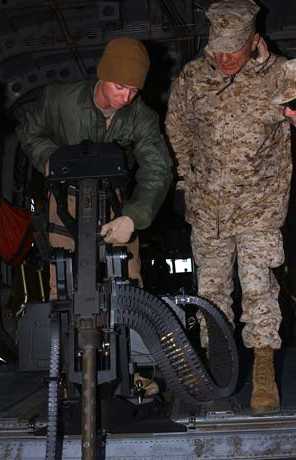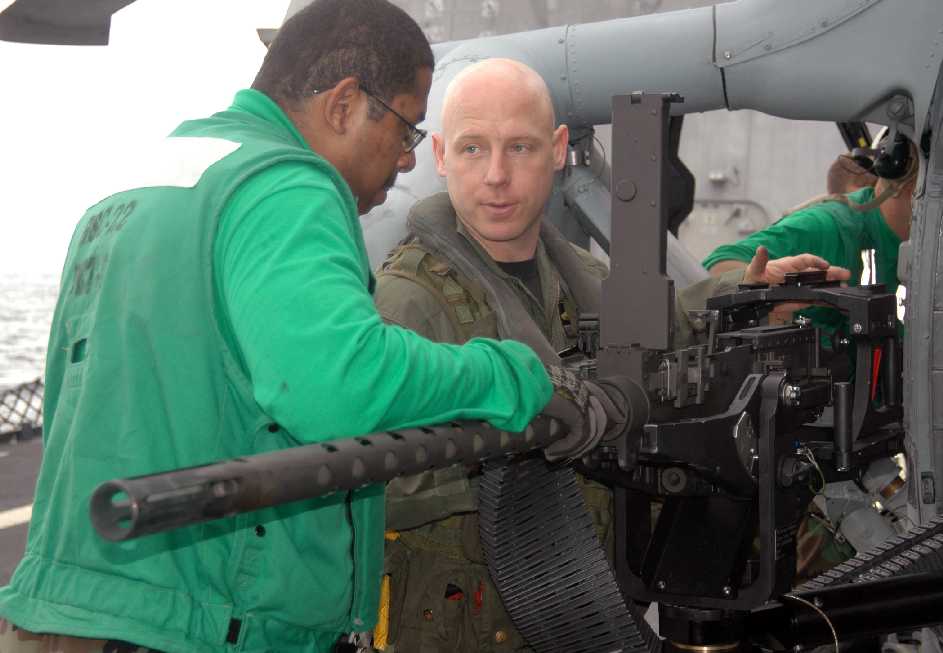 28 May 2006 - Benchmark
28 January 2010 - Added picture of M3M being mounted on a Sea Hawk
09 August 2016 - Converted to HTML 5 format