United States of America
16"/50 (40.6 cm) Mark 2 and Mark 3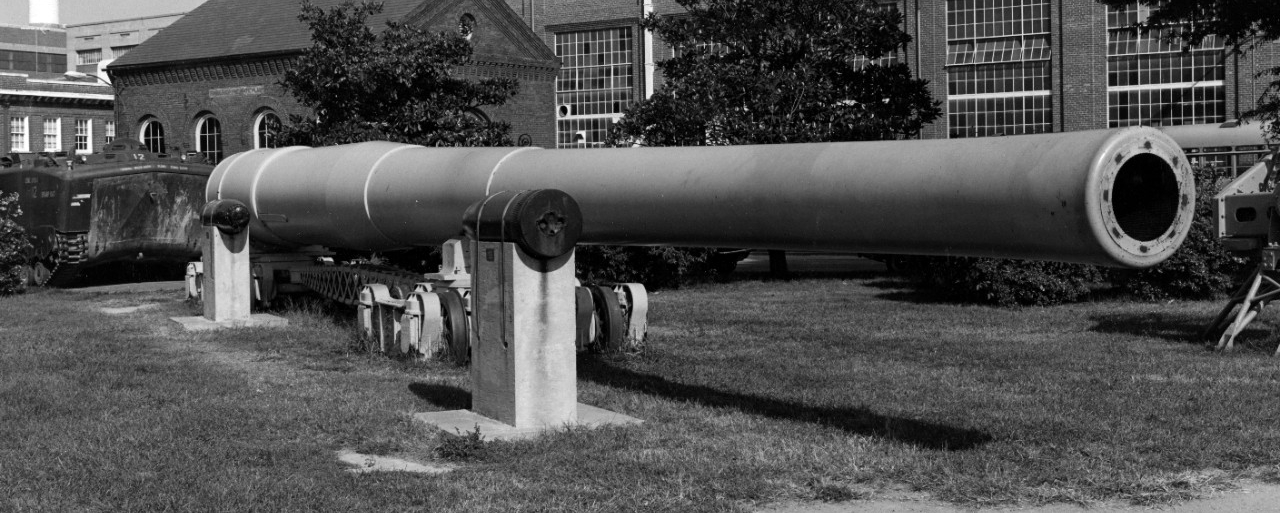 The prototype for this gun was proved on 8 April 1918 and production started soon afterwards, but these guns were destined never to be used on a warship. They were originally intended for the Lexington (CC-1) class battlecruisers and for the South Dakota (BB-49) class battleships, all of which were cancelled in 1922 as a result of the Washington Naval Limitation Treaty. In the late 1930s, it was planned to use these weapons to arm the Iowa class (BB-61) battleships but, through a comedy of errors, the ship barbette design and the mounting design were incompatible with each other. This forced BuOrd into a new gun design and development for the Iowa class battleships, which fortunately resulted in the excellent 16"/50 (40.6 cm) Mark 7.
As a result of these ship cancellations and redesigns, most of these Mark 2 and Mark 3 guns wound up being used by the US Army as Coast Defense Artillery. Twenty guns were transferred between 1922 and 1924 and all but three of the remaining guns were transferred in January 1941 following the Iowa fiasco. The Army considered these guns to be excellent weapons in that role and used them along with their own 16"/50 (40.6 cm) M1919. By August 1945 there were forty of these ex-naval guns in active coast defense batteries.
The Mark 2 was constructed of a liner, A tube, jacket, seven hoops, four hoop-locking rings and a screw box liner. Mod 0 had increasing twist while Mod 1 had uniform twist with a different groove pattern. The Mark 3 was very similar, the only difference being that the Mark 3 had a one-step conical liner. Mark 3 Mod 0 had increasing twist while Mod 1 had uniform twist. When cancelled in 1922, 71 guns including the prototype had been completed and another 44 were in progress. As of 2006, two of these guns still survive and are shown on the additional pictures page.
It is stated in some of the references listed below that no Mark 3 guns were ever completed. This is incorrect, as the 16"/50 (40.6 cm) gun on display at the Aberdeen Proving Grounds Museum in Maryland is a Mark 3. In addition, a Mark 3 Mod 1 gun was later modified as a prototype for the Mark 7 and was then redesignated as Mark D Mod 0. This error is apparently due to notes in the BuOrd publication OP 127 "United States Naval Guns: Their Marks and Modifications" of 1942 which states "No Guns" for the Mark 3 and Mark 3 Mod 1. I believe that these BuOrd notes actually mean "no guns in active naval service" as they had all been transferred to the Army as described above or were being used for testing purposes.
Note: The US Army's 16"/50 (40.6 cm) M1919 coastal defense gun was an almost completely different design and was one of the few wire wound guns ever built in the USA. It weighed nearly 24 tons (25 mt) more than the Mark 2 and was about 0.5 calibers longer. A total of eight of these guns were built with six being used in two-gun coastal defense batteries, the first of which was installed during 1923-1924 at Battery Williston, on the west side of the entrance to Pearl Harbor, "where they had a field of fire that completely encircled the island of Oahu [Hawaii] and reached beyond its shores at every point" - from "Seacoast Fortifications of the United States." The other two batteries were installed at Long Island, New York and at Boston, Massachusetts. All other 16" (40.6 cm) coastal batteries used the former naval guns.
Designation
16"/50 (40.6 cm) Mark 2 and Mark 3
Ship Class Used On
Lexington (CC-1) and South Dakota (BB-49) classes
Date Of Design
1916
Date In Service
N/A - was to enter service in 1923
Gun Weight
128.15 tons (130.2 mt)
Gun Length oa
816.0 in (20.726 m)
Bore Length
800 in (20.320 m)
Rifling Length
676.0 in (17.170 m)
Grooves
96
Lands
N/A
Twist
Mod 0: Increasing RH 1 in 50 to 1 in 32 at the muzzle
Mod 1: Uniform RH 1 in 32
Chamber Volume
30,000 in3 (491.6 dm3)
Rate Of Fire
2 rounds per minute
Type
Bag
Projectile Types and Weights
(see Note 3)
Ships
AP Mark 3 - 2,110 lbs. (957.1 kg)

Coastal Artillery
AP Mark 12 - 2,240 lbs. (1,015 kg)

Bursting Charge
AP Mark 3 - 57.5 lbs. (26.1 kg) Explosive D
AP Mark 12 - 33.6 lbs. (15.2 kg) Explosive D
Projectile Length
about 64 in (162.6 cm)
Propellant Charge
(see Note 2)
Ships
AP Mark 3 - 700 lbs. (318 kg)

Coast Defense Batteries
AP Mark 3 - 672 lbs. (305 kg)
AP Mark 12 - 648 lbs. (294 kg)

Muzzle Velocity
Ships
AP Mark 3 - 2,800 fps (853 mps)

Coastal Defense Batteries
AP Mark 3 - 2,750 fps (838 mps)
AP Mark 12 - 2,650 fps (808 mps)

Working Pressure
18.0 tons/in2 (2,835 kg/cm2)
Approximate Barrel Life
250 rounds
Ammunition stowage per gun
(see Note 4)
120 rounds
The propellant charge was in six bags.
These charge weights for the Coastal Defense batteries are not misprints. The lighter projectile did indeed use a larger propellant charge. This may have been to allow both projectiles to use the same range table at longer ranges.
The AP Mark 12 was the Navy AP Mark 5 with a different fuze.
Shell stowage for the South Dakota class was to be as follows:

Each mounting had 212 projectiles distributed as follows:
62 projectiles in the shell handling room
138 projectiles in the turret stool
12 projectiles in the shell hoists

In addition, Turret #2 had 48 projectiles on the third deck. There were an additional 541 projectiles stowed in shell rooms on the first platform deck. In all, the planned stowage was a total of 1,437 projectiles.
Ranges of projectiles fired at new gun muzzle velocities

| Elevation | AP Mark 3 | AP Mark 12 |
| --- | --- | --- |
| Range @ 45 degrees | 44,500 yards (40,691 m) | --- |
| Range @ 46 degrees | --- | 45,100 yards (41,240 m) |
These ranges are for the coast defense mounting in World War II. By way of comparison, the Army's 16"/50 (40.6 cm) M1919 gun at a muzzle velocity of 2,700 fps (823 mps) and a 48 degree elevation using a 2,340 lbs. (1,061 kg) AP projectile had a range of 49,140 yards (44,930 m).
| Range | Side Armor | Deck Armor |
| --- | --- | --- |
| 6,000 yards (5,490 m) | 29.0" (737 mm) | --- |
| 9,000 yards (8,230 m) | 23.1" (587 mm) | --- |
| 12,000 yards (10,920 m) | 21.5" (546 mm) | --- |
| 16,000 yards (14,630 m) | 17.3" (439 mm) | --- |
| 20,000 yards (18,290 m) | 13.5" (343 mm) | --- |
This data is from "Elements of US Naval Guns" of 17 May 1918 and General Board file 430 (1916). It is corrected for angle of fall.
Designation
Two-gun Turrets
Lexington (4)

Three-gun Turrets
South Dakota (4)

Weight
(see Note 1)
Two-gun Turrets - N/A

Three-gun Turrets - 1,390 tons (1,412 mt) except for Turret II 1,403 tons (1,426 mt)

Elevation
-4 / +40 degrees
Elevation Rate
N/A
Train
+145 / -145 degrees
Train Rate
(see Note 5)
1.7 degrees per second
Gun recoil
48 in (121.9 cm) nominal, 49 in (124.5 cm) maximum
Turret II on the South Dakota class was a secondary command position, hence the extra weight.
The gun axes were 82 in (208 cm) apart.
Each gun had its own shell and powder hoists. In addition, the South Dakota class had auxiliary shell and powder hoists on both sides of the turrets.
Guns on the South Dakota class were individually sleeved with a 50 HP 400 rpm electric motor driving each elevation screw. Each rammer was driven by two 50 HP 600 rpm electric motors coupled to a common shaft. There was a 0.1875 in (0.48 cm) bulkhead between each gun, but the gun compartments may not have been individually flashtight. It is believed that the turrets for the Lexington class would have been similar in design to those of the South Dakota but with thinner armor.
The maximum training speed using the primary motors was 100 degrees per minute and the minimum was 0.25 degrees per minute. The auxiliary electric motor could train at 25 degrees per minute. Manual training by hand allowed about 1.77 degrees per minute.
Armor thickness for South Dakota class as given in "The Last American Dreadnought" by Duane D. Borchers:

Face: 18.0 in (45.7 cm)
Sides: 10.0 in (25.4 cm)
Rear: 12.0 in (30.5 cm)
Roof: 8.0 in (20.3 cm)

Armor thickness for Lexington class as given in "US Cruisers: An Illustrated Design History" by Norman Friedman:

Face: 12.0 in (30.5 cm)
Sides: 8.0 in (20.3 cm)
Rear: 8.0 in (20.3 cm)
Roof: 4.0 in (10.2 cm)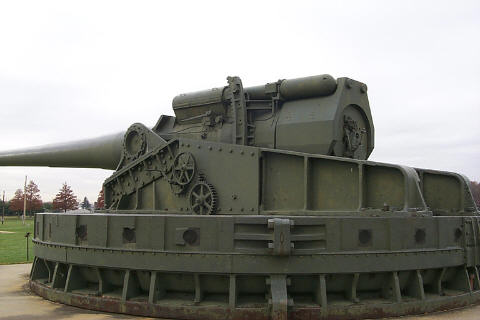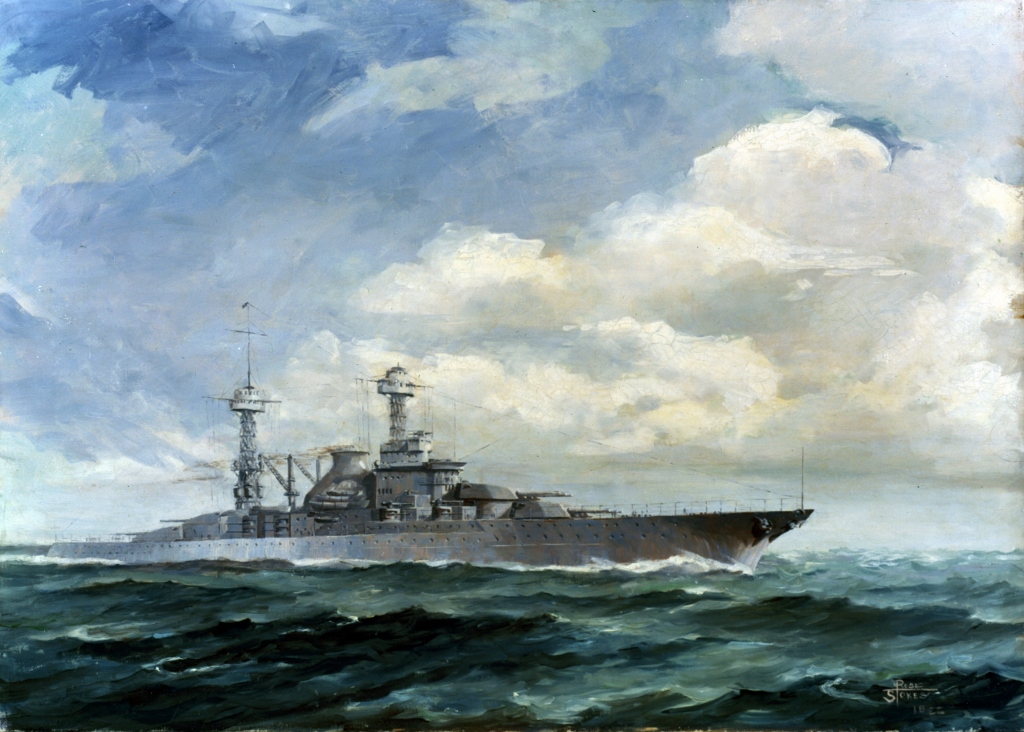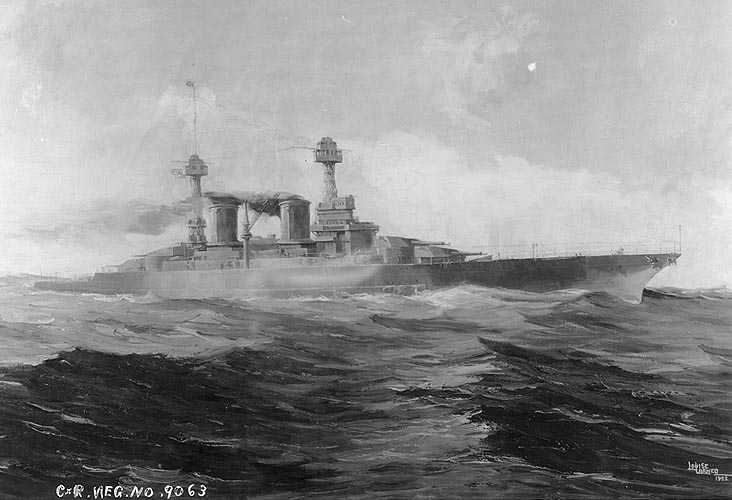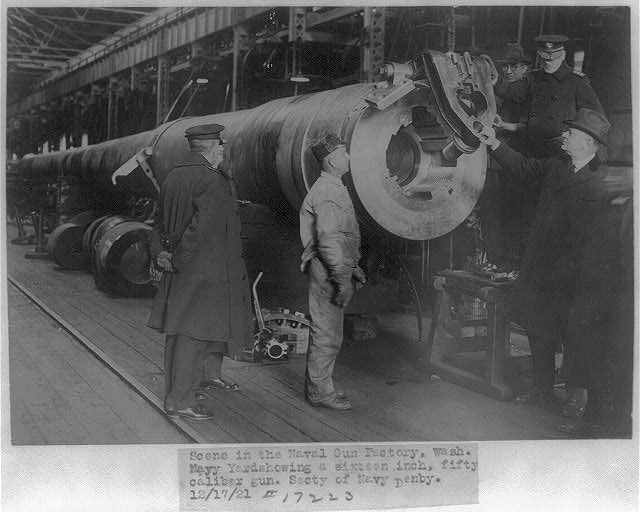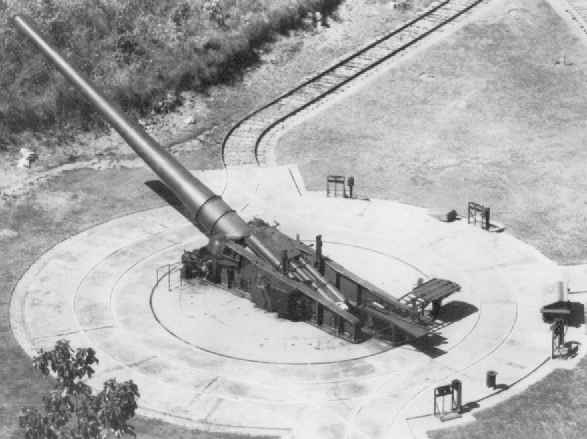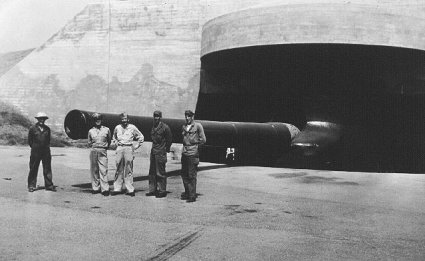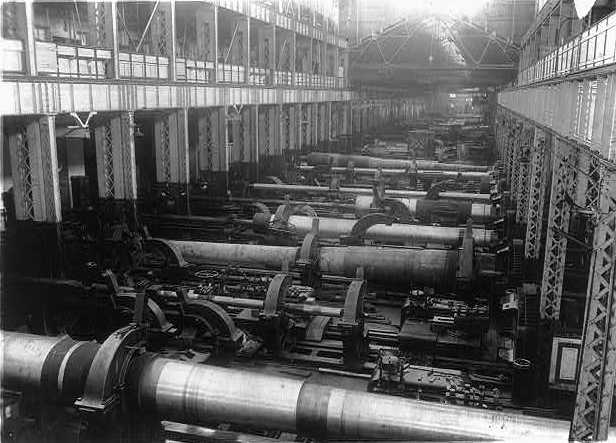 "The Last American Dreadnought, American Battleships, South Dakota (BB-49) Class, A Study in Blueprints" by Duane D. Borchers
"Naval Weapons of World War Two" by John Campbell
"US Battleships: An Illustrated Design History," "US Cruisers: An Illustrated Design History" and "US Naval Weapons" all by Norman Friedman
"Seacoast Fortifications of the United States: An Introductory History" by Emanuel Raymond Lewis
"Round Shot to Rockets: A History of the Washington Navy Yard and the United States Naval Gun Factory" by Taylor Peck
---
Navy Pages by Gene Slover
---
Special help by Nathan Okun and Robert Darby
26 July 2008 - Benchmark
17 January 2009 - Added picture of Secretary of the Navy Denby inspecting 16" (40.6 cm) gun
26 January 2009 - Added information on shell stowage for South Dakota class
14 April 2014 - Added armor protection and minor changes to Mount / Turret notes
28 March 2015 - Redid painting of South Dakota
29 March 2015 - Fixed link to USS Capella and redid photograph of gun at the Washington Navy Yard
16 February 2016 - Updated Armor Penetration table and added armor thickness for Lexington class
08 July 2016 - Converted to HTML 5 format