Netherlands
30 mm (1.2") Goalkeeper SGE-30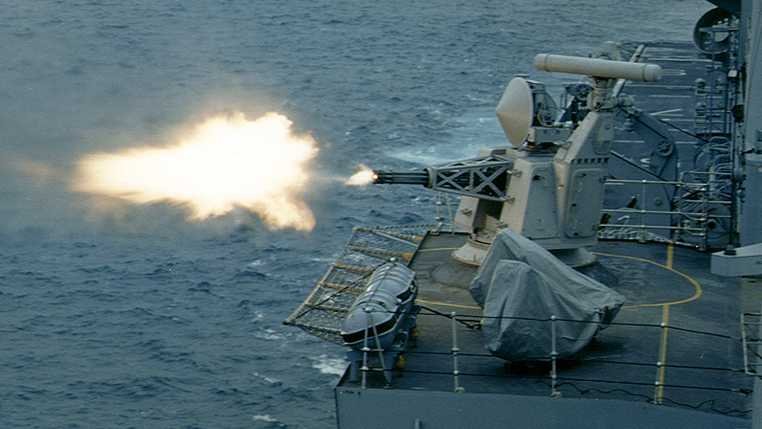 A joint project by Signaal and General Electric, Goalkeeper is a close-in weapon for use against missiles and aircraft. The system automatically performs the entire process from surveillance and detection to destruction, including selection of the next priority target. Goalkeeper uses a dual radar system, an I-band track-while-scan search-and-acquisition set which hands off to a dual frequency L/K-band target-tracking radar for the actual gun engagement.
This system can track up to thirty targets, engaging the four most urgent. It will minimize the salvo length to engage as many targets as possible and is thought to be able to deal with two pairs of sea-skimming missiles as little as five seconds apart.
The General Electric (General Dynamics Armaments) 30 mm (1.2") GAU-8/A seven-barrel Gatling gun used by Signaal is also used for French close-in weapon systems, including SAMOS and Satan. It is perhaps most famously used on the US Air Force A-10 Thunderbolt anti-tank aircraft.
Designation
Goalkeeper
30 mm/77 GAU-8/A Gatling Gun
Ship Class Used On
Netherlands: Karel Doorman and "M" classes
Britain: Invincible, Type 22 Batch 3 and Type 23
Exported to South Korea and others
Date Of Design
about 1975
Date In Service
1980
Gun Weight
620 lbs. (281 kg)
Gun Length oa
114.2 in (2.900 m)
Bore Length
90.6 in (2.300 m)
Rifling Length
N/A
Grooves
N/A
Lands
N/A
Twist
N/A
Chamber Volume
N/A
Rate Of Fire
Selectable up to 4,200 rounds per minute
This weapon fires for about 0.2 seconds per engagement.
Type
Fixed
Weight of Complete Round
PGU-14/B API: 1.62 lbs. (0.735 kg)
PGU-13/B HE-I: 1.48 lbs. (0.671 kg)
APDS-T 1 2: 1.23 lbs. (0.560 kg)
FMPDS: 1.37 lbs. (0.620 kg)
Projectile Types and Weights
API: 0.94 lbs. (0.425 kg)
HE-I: 0.79 lbs. (0.360 kg)
APDS-T: 0.50 lbs. (0.225 kg)
FMPDS: 0.52 lbs. (0.234 kg)
Bursting Charge
HE-I: 0.12 lbs. (0.056 kg) HE/Incendiary
Projectile Length
N/A
Complete Round: 11.4 in (29 cm)
Propellant Charge
0.33 to 0.34 lbs. (0.150 to 0.156 kg) RP1313 single base propellant
Cartridge
30 x 173 mm
Muzzle Velocity
API: 3,225 fps (983 mps)
HE-I: 3,350 fps (1,021 mps)
APDS-T: 4,019 fps (1,225 mps)
MPDS 3 4: 3,773 fps (1,150 mps)
Working Pressure
N/A
Approximate Barrel Life
N/A 5
Ammunition Stowage per gun
1,190 rounds on mounting 6
Range with 0.94 lbs. (0.425 kg) API Penetrator

| Elevation | Distance |
| --- | --- |
| Maximum Effective Range | about 2,200 yards (2,000 m) |
| Min/Max Range | 160 to 3,300 yards (150 to 3,000 m) |
Designation
Goalkeeper
Weight
On Mount: 14,018 lbs. (6,358 kg) (incl. 1,190 rounds of ammunition)
Off Mount: 7,766 lbs. (3,523 kg)
Total: 21,784 lbs. (9,881 kg)
Elevation
-25 / +85 degrees
Elevation Rate
80 degrees per second
Train
360 degrees
Train Rate
100 degrees per second
Gun recoil
N/A