Italy
320 mm/44 (12.6") Model 1934 and Model 1936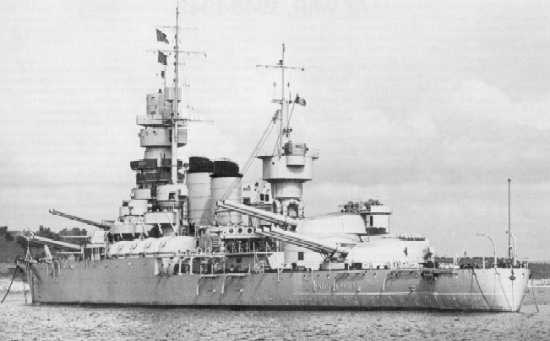 These were originally 12"/46 (30.5 cm) Model 1909 guns used on battleships built before and during World War I. In the 1930s, these guns were rebuilt as part of the massive reconstruction of the old battleships. The conversion was judged to be satisfactory with 13.4% more muzzle energy being obtained. However, the rebuilt guns had more longitudinal droop and slightly more shell dispersion.
The Cesare class guns were of Elswick Pattern "T" and those of the Duilio class were of Vickers Mark "G" type. Welin breech-blocks were used for both types. The Elswick guns were converted by Ansaldo and the Vickers guns by ODO. See the 12"/46 (30.5 cm) Model 1909 data page for the original construction details. The conversion consisted of boring out to remove the original A tube and apparently some of the wire. The remainder was shrunk on to a new A tube. It is possible that a shrunk or tupped inner A tube was also fitted.
Actual bore length of these reworked guns was 43.75 calibers.
Data from:
"Regia Marina: Italian Battleships of World War Two" by Erminio Bagnasco and Mark Grossman
"Naval Weapons of World War Two" by John Campbell
"Italian Warships of World War II" by Aldo Fraccaroli
"The Cavour and Duilio Class Battleships" article by Giorgio Giorgerini in "Warship Volume IV"
"Battleships of World War I" by Peter Hore
Special help by Nathan Okun
03 November 2008

Benchmark

26 May 2012

Updated to latest template