United Kingdom / Britain
6"/50 (15.2 cm) BL Marks XI and XI*
Introduced on HMS Black Prince in 1906 and subsequently used as secondary guns on many pre-dreadnoughts. These were the first 6" (15.2 cm) guns of 50 calibers to be mounted on a European ship. These guns were found to be too heavy to aim manually, especially on the smaller cruisers. For that reason, hydraulic power gear was added to some mounts in the latter part of World War I.
During World War II, these guns were used on auxiliary warships, armed liners, DEMS and Ocean Boarding Vessels. They were also extensively used in Australian coast defenses constructed prior to World War II.
Constructed of a tapered inner A tube, A tube, wire, full length jacket, breech ring and breech bush screwing into the A tube. Mark XI* differed in having a thicker inner A tube and the use of cannelured rings at the two forward shoulders. A total of 177 were built, which were 34 Mark XI, 18 Mark XI*, 124 Mark XI* with a slightly different breech ring for PVI mountings and one "H" Mark XI* which was a Coventry ordnance gun with Holmstrom breech mechanism. This last gun was linered down to 3 inches (7.62 cm) and used for experimental purposes. Of the remainder, 126 remained in service as of 1939. Twenty-six Mark XI guns were used in Australian coastal batteries prior to World War II and many others were used in emergency coastal defense batteries during the war. At least one Australian and two South African guns still survive, as can be seen on the additional pictures page.
Designation
Weight (less shield)
N/A
Elevation
PV and PV*: -7 / +13, later +20 degrees on some
PVI: -7 / +15 degrees
Elevation Rate
Manual operation, only
Train
about +150 / -150 degrees
Train Rate
Manual operation, only
Gun recoil
N/A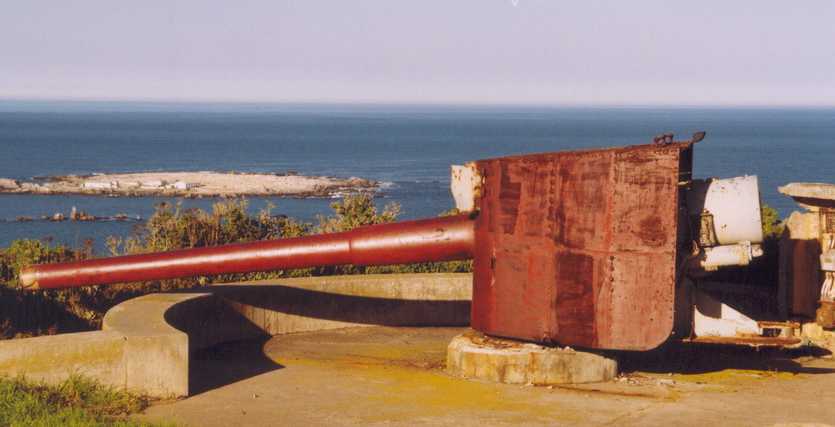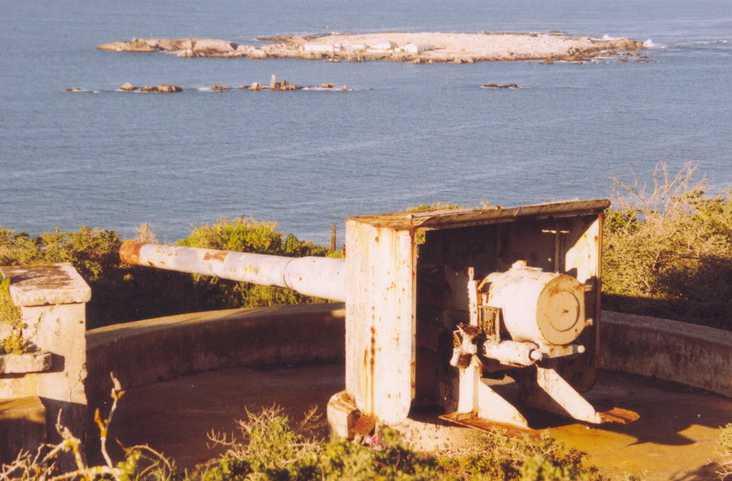 Engraving reads as follows:
| Engraving | Explanation |
| --- | --- |
| N | Navy and top of gun (orientation that results in the least amount of droop) |
| B.L. 6 In wire XI | Breech Loading 6 inch (15.2 cm) gun of wire wound construction Mark XI |
| R.G.F. 1905 | Built at the Royal Gun Factory in 1905 |
| No2035 | Serial number 2035 |
Engraving reads as follows:
| Engraving | Explanation |
| --- | --- |
| Honi soit qui mal Y pense | The motto of the Order of the Garter, founded by King Edward III in 1348 |
| ED. VII Rex et Imp. | Edward VII, King of Britain in 1905 when this gun was manufactured |
Engraving on breech reads as follows:
| Engraving | Explanation |
| --- | --- |
| AN | Australian Navy and top of gun (orientation that results in the least amount of droop) |
| B.L. 6 In wire XI | Breech Loading 6 inch (15.2 cm) gun of wire wound construction Mark XI |
| VSM 1912 | Built at Vickers Sons & Maxim in 1912 |
| No2305 | Serial number 2305 |
Data from:
"Warrior to Dreadnought: Warship Development 1860-1905" and "The Grand Fleet: Warship Design and Development 1906-1922" both by D.K. Brown
"Big Gun Monitors: The History of the Design, Construction and Operation of the Royal Navy's Monitors" by Ian Buxton
"Jutland: An Analysis of the Fighting", "Naval Weapons of World War Two" and "British Naval Guns 1880-1945 No 11" article in "Warship Volume VII" all by John Campbell
"Cruisers of the Royal and Commonwealth Navies" by Douglas Morris
"British Battleships: 1860 - 1950" by Oscar Parkes
"Graf Spee's Raiders: Challenge to the Royal Navy, 1914-1915" by Keith Yates
Books:
20 October 2008

Benchmark

11 February 2012

Updated to latest template

30 November 2015

Updated links to Australian War Memorial