United Kingdom / Britain
16.25"/30 (41.2 cm) Mark I
Also known as "the Elswick 110 ton gun." These were some of the largest breech loaders ever constructed, although they were of limited usefulness as their very heavy weight meant that only two guns of this size could be carried on each ship. The very heavy projectiles and large amount of powder required to fire them also meant that these guns had a slow rate of fire. In hindsight, this gun was too ambitious for a time when smaller 12 and 13.5 inch (30.5 and 34.3 cm) guns had many constructional problems.
The following description is from "British Battleships" by Parkes:
"During proof at Woolwich one of the Victoria's guns was found to have bent, and when again submitted for acceptance was put through a long series of trials which brought out other defects. It was therefore rejected and replaced by one specially strengthened, which served as a model for those in the Sans Pareil and held up her commissioning by a further sixteen months. The 110-ton gun was never tested to destruction, and although supposed to have a life of seventy-five rounds, this estimate was often questioned. It was a slow firer, never made good shooting, and proved costly to repair and reline."
The differences between the twelve guns constructed were so large that the "Mark I" designation was abandoned and they were known individually by their serial numbers. Number 1 and 2 guns were made of A tube/breech piece - the breech attached to this section - 17 hoops extending to the muzzle, 1 long hoop and 10 short hoops/8 hoops/7 hoops. All parts were made of steel forgings. The later guns were only slightly less complicated.
| | |
| --- | --- |
| Designation | 16.25"/30 (41.2 cm) Mark I |
| Ship Class Used On | Benbow and Victoria classes |
| Date Of Design | about 1885 |
| Date In Service | 1888 |
| Gun Weight | 110 tons (112 mt) inc. breech |
| Gun Length oa | 523.2 in (13.298 m) |
| Bore Length | 488 in (12.383 m) |
| Rifling Length | N/A |
| Grooves | N/A |
| Lands | N/A |
| Twist | N/A |
| Chamber Volume | N/A |
| Rate Of Fire | 0.29 - 0.33 rounds per minute |
Type
Bag
Projectile Types and Weights
AP - 1,800 lbs. (816 kg)
Common - 1,800 lbs. (816 kg)
Shrapnel - 1,800 lbs. (816 kg)
Bursting Charge
AP - N/A
Common - 187.5 lbs. (85 kg) black powder
Shrapnel - N/A
Projectile Length
AP - 43.57 in (110.7 cm)
Common - 55 in (139. 7 cm)
Shrapnel - 55 in (139. 7 cm)
Propellant Charge
960 lbs. (435 kg) SBC (slow burning cocoa)
Muzzle Velocity
2,087 fps (636 mps) [new gun]
Working Pressure
17 tons/in2 (2,680 kg/cm2)
Approximate Barrel Life
104 rounds
Ammunition stowage per gun
See Note 2
The propellant was in eight bags.
Outfit in Benbow was 37 AP, 44 Common, 11 Shrapnel. Other ships had 32 AP, 38 Common and 10 shrapnel.
The shrapnel shell carried 2,330 iron shot pellets of 4 oz (113 gm) each.
Designation
Single Barbette Mounting
Benbow (2)

Twin Mounting
Victoria (1)

Weight
N/A
Elevation
- 5 / +13 degrees
Rate of Elevation
N/A
Train
(see Note)
about +30 to 120 / -120 to -30 degrees
Rate of Train
N/A
Gun Recoil
N/A
Loading Angle
N/A
The turret on The guns on HMS Victoria were only 15 feet (4.5 meters) above the waterline while the barbette mountings on Benbow were 22 feet (7 m) above the waterline. In theory, the twin turret had a firing arc of more than 300 degrees but the reality was that the deck buckled during ahead firing and the superstructure was considerably shaken when the turret was much abaft the beam. The blast-free arcs are thus thought to be closer to the numbers given above.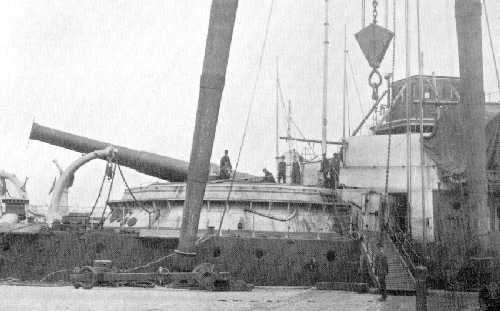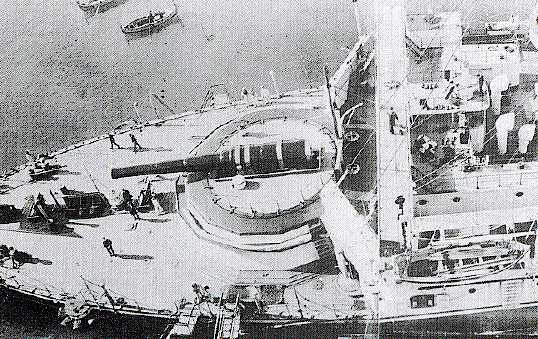 "Warrior to Dreadnought: Warship Development 1860-1905" by D.K. Brown
"British Super-Heavy Guns Part 2" article by John Campbell in "Warship Volume III"
"The Big Gun: Battleship Main Armament 1860-1945" by Peter Hodges
"British Battleships: 1860 - 1950" by Oscar Parkes
05 September 2006 - Benchmark
11 February 2012 - Updated to latest template
12 September 2016 - Converted to HTML 5 format